Leadership Garden Legacy
From their website:
"
What is a Leadership Garden? Our answer is simple. A Leadership Garden is a fun and engaging metaphor for growing leadership
."
U.N.I.Q.U.E. KIDS: Growing My Leadership Garden
- $18.95
Recommended for ages 5-12.
U.N.I.Q.U.E. KIDS Activity Guide & My Leadership Garden Journal – PDF Downloads
$8.95
U.N.I.Q.U.E. KIDS Audio Book MP3 Download
$8.95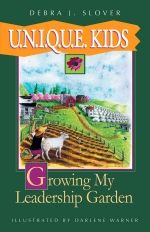 "
U.N.I.Q.U.E. KIDS is designed as an interactive leadership development tool with the participation of grownups or older students who can read the book with children (ages 5-12) and provide mentoring and reinforcement of the concepts and discussion.
A central mnemonic is the acronym, U.N.I.Q.U.E.: Understanding, Nurturing, Inventive, Quality, Unstoppable, Expression. Taking one letter at a time, Slover walks the reader through creating and encouraging the life-affirming, esteem-building, leadership skills characteristic, and harnessing the six qualities together to form a "Leadership Garden Legacy" based on mutual respect, cooperation, teamwork, and other values.
"
U.N.I.Q.U.E.: Growing the Leader Within
- $18.95
Recommended ages - high school through adult
The Leadership Garden Guidebook
$18.95
U.N.I.Q.U.E.: Growing the Leader Within – Audio Book MP3 Download
$14.95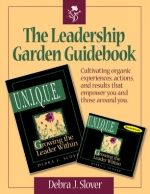 "
Combining an illustrated fable, practical exercises, and a solid gardening metaphor, author Debra Slover presents a new view of leadership based not only in our skills, but also in our self-confidence. U.N.I.Q.U.E. stands for the Understanding, Nurturing, Inventive, Quality, Unstoppable, Expression of leadership."
See
bundled toolkit discounts here
.
Also - take advantage of an additional "Spring Special Discount" of 20% on all the 'Empowerment Tools' Enter the discount code:
TOS-SS20D
at checkout to receive this discount. This code expires on
May 31, 2013
.
The Bentz Test Laboratory is filled with future leaders. (okay, I'm a bit biased...but, I'm right!) I was excited to get our products from Leadership Garden Legacy. I had done a bit of pre-research on their products online and was eager to get them in my hands.
The physical books are high quality, the downloads are easy to access, and the customer service is very attentive and helpful.
I began reading the U.N.I.Q.U.E: Growing the Leader Within book - recommended for ages high school to adult to get a grasp of the program. I must say, it was a bit disappointing to me. The Prologue introduces the author, and she explains some of her personal struggles - a mother's suicide, a divorce, a secret life. She discovered her "leader within" and her purpose, to encourage others to develop their leaders within.
The book uses a metaphor of a farm as fable and teaching tool to express the author's message. Hugh - the main character is a "lost sheep" that represents each person. Hugh takes the reader on a tour of the leadership farm. Each character he meets represents another aspect of our "leadership journey".
As I read the book, I found myself getting confused. The author begins well with the metaphor and fable, but frequently jumps out of that storyline to examples of her own life. It was a bit hard to follow.

These materials do not mention God - they do not claim to anywhere, so I did not expect a Christian worldview message. The main focus on getting rid of the "weeds" - our weaknesses, and choosing to plant "seeds" of leadership. Not a bad idea...just a bit misleading. I truly believe that God is the only redeemer of our poor choices, and not amount of personal determination can replace his amazing power to redeem and restore. All in all, I found the materials disappointing - not enough explanation of how to utilize the journals for us to complete very many exercises. The vocabulary was confusing (and I even have a degree in psychology).
The U.N.I.Q.U.E Kids included color illustrations, with the same metaphorical story. I asked several of my testers to read it and report. They were confused and needed further explanation of the story, and it's purpose. They did enjoy the illustrations, however.
I love the idea of this product. We need to cultivate leadership qualities in ourselves and in our families - intentionally. But, this wasn't the best fit for our family. I believe the author has a sincere desire to encourage - we just got lost on our journey through the farm.
Click to read more reviews from the Schoolhouse Review Crew