From their website:
"
TouchMath
-
(Levels PreK - 2nd Grade).
"TouchMath
is a multisensory program that uses its signature TouchPoints to engage students of all abilities and learning styles.
"
Pre-K
Level
: "
The skills presented in the program incorporate activities in Readiness/Number Sense (basic counting and relating groups of objects, sorting and classifying, and patterning), Spatial Sense (describing shapes, identifying them in the environment, sorting and classifying, and matching), and Number Concepts (representing, counting, and associating quantities with objects and TouchPoints). The skills are developed sequentially from hands-on activities with concrete objects to application of the skills using pencil and paper with guidance
."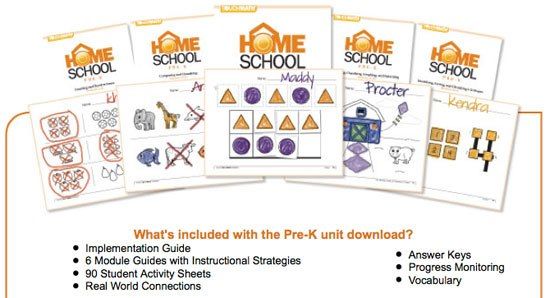 Cost:
$59.95
Age Range: Pre-K, approximately ages 3-5
New to
TouchMath
? Watch this introductory video:
The Bentz Test Laboratory was very excited to get to try out TouchMath - PreK Homeschool. Years ago, my sister-in-law, who is a special education teacher, introduced us to this program.
My testers are both preschool age girls (who LOVE doing school so much they follow me around begging to do more of it!). One tester is 5 years old (but not in K yet) the other is 3.
The backbone of TouchMath Homeschool is the downloadable program. It is a sizable PDF file containing 6 modules of learning.
Counting & Number Sense
Comparing & Classifying
Sorting, Classifying, Graphing & Patterning
Identifying, Sorting, and Classifying 2-D Shapes

Identifying, Sorting, and Classifying 3-D Shapes and Coins

Representing Quantities and Numbers
TouchMath is a very comprehensive program. A bit more than the average homeschool mom needs - but, carefully designed to meet the standards in place in more "institutionalized" settings.
We printed off the workmats for module one and jumped right in. I like that I can decide what to print/and what not to print (there's alot of information about how to use the program & the methodology - just 15 "workmats" to print for the first module).
TouchMath
recommends daily lessons in the amount of about 2.5 times their age in years. Keeping the lessons short is key in keeping attention spans occupied. I've learned from years of experience - cut off the lesson at the high point, it makes them want to come back for more!
It starts our simple and concrete and moves to more abstract. The hands-on manipulatives were a huge hit. They are bright, and a great way to engage your tactile learners. In fact, I opened the box - and they squealed (no lie...they squealed) Their favorites were the
Texture Cards
, hands-down. The bright colors and themes kept them exploring set after set. (they exceded their daily math lesson time...) Another tip from teaching math...the best math learning looks like play.
In my opinion, the strenth of this program is in the additional manipulatives. Some children are more ready for paper/pencil work than others at this age (even within the same family). Using both approaches made the lessons more memorable.
3D Numerals
- $79.00 -
3-D Numerals are made of brightly-colored, durable plastic — a perfect multisensory manipulative for young children or children with learning differences. Students can touch and count the raised TouchPoints as they learn the correct Touching/Counting Patterns and begin to understand numeral/quantity association. Activity Booklet with reproducible masters and lots of ideas included.
Touch Shapes
- $30.00 -
There are 108 transparent geometric shapes in the set. They include circles, triangles, squares, rectangles, rhombuses, and hexagons, for a total of six shapes. Each shape comes in three sizes of small, medium, and large and six colors of red, blue, yellow, green, orange, and purple.
Texture Cards
- $99.00 Free samples can be downloaded
here
. "
Five sets of cards (45 cards), each with its own texture and theme — Shapes, Fruit, Forest Animals, Sea Life and TouchPoints. Each set has cards for the numerals 1–9 and is designed to help you teach number recognition, numeral/quantity association, counting and vocabulary. The back of the cards show the numeral with TouchPoints and Touching/Counting Patterns.
"
I really liked this program. The manipulatives are a bit expensive, but - they are well constructed and worth the investment. My testers adored the program as well. One of the best organized introductions to math I've ever seen.