Yippee - the 2013 TOS Review Season is underway!
I'm excited to be on my 3rd year with the TOS Crew. Just to let you know, we are curriculum junkies at Bentz Test Laboratory - and we get giddy when packages come in the mail. I hope you will discover some valuable treasures for your homeschool as you come along with us. You can count on getting some honest opinions from an ACTUAL homeschool mom about these products. I like to think of it as our way of saving YOU time and money.
I hope you get as excited as we do!
Our first product: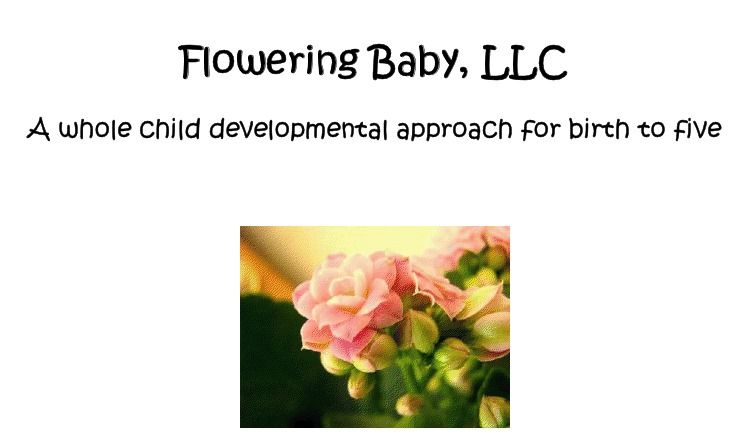 Flowering Baby,

LLC
from their website:
A whole child developmental approach for birth to five -

"A curriculum for parents and teachers hoping to share the hundreds of simple and inexpensive ways parents, caregivers and teachers can affect a child's development.
Our program is designed by year and broken down by month. You can start the program at any time, in any given year."
Cost - $30 - 38.00
(download) Purchase the entire 5 Volume Set - $132.00 - Use the code "
Blog10
" to get 10% off!
The Bentz Test Laboratory tested the
"Three to Four" Volume 4
alongside the
"Four to Five" Volume 5.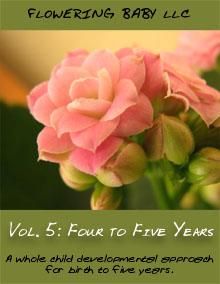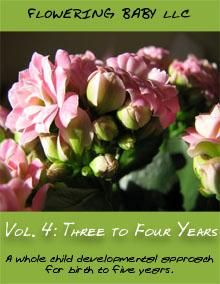 Each level consists of 2 parts:
The MonthlyCurriculum Guide - 12 months of activities including: math, language, science, physical, self-help and more

The Theme Curriculum Guide - Twenty-four specific themes (mini unit studies 2 per month)
Now that you have all the important information about Flowering Baby, LLC - on to what the Bentz Test Laboratory thought.
Tester #1 is 3 years old (the baby of our family...but, don't call her a baby - she'll inform you she is now a "big girl")
Tester #2 is 5 (slightly older than the recommended age - but, also slightly delayed in her academic progress).
Having a "houseful to homeschool" - grades 9 down to preschool, a large amount of time and attention goes to the upper level student's needs. I know this is "backwards" - they should be more and more independent learners - and they truly are. But, a curriculum designed for my "littles" was exactly what I was looking for!
Flowering Baby, LLC is a downloadable product (some members of TOS Crew recieved a CD copy). I like that it's easily accessible, and I can pick/choose what I want to print, and what I don't. I do tend to "overprint" - all you homeschool moms know what I'm talking about. But, we got to support the family by purchasing toner constantly (afterall, my hubby works for HP...)
I printed the Three to Four and the Four to Five Guides - but, wished I hadn't printed it (we'll probably get a thank you for all our ink use..each Guide is over 100 pages). It would be very easy to just access your PDF instead.
Flowering Baby, LLC may seem quite simplistic, at first. "Read a book" appears over and over... I can tell you, I "know" this - read, read, read to your young children. BUT, somehow buried in the pages of Geometry, Hindi, and Essay Writing with a High Schooler - I think I need a constant reminder of the importance of sitting down to read to them. But, don't be fooled - this curriculum is very carefully designed with purpose! Each activity develops a solid foundation of cognitive, language, gross motor, fine motor, social and self-help skills.
The Monthly Theme Curriculum Guides for both of these levels were quite similar - very nice if you have several young children working together at different levels. You are encouraged to do the themes in any order, and skip them if they aren't right for your family. Each theme contains approx. 6 days of activities. Examples: Dinosaurs, Musical Instruments, Flowers, My Body, Christmas, etc.
The Curriculum Guides are laid out in a calendar month, with 10-15 days of activities for each month. The guide is not dated - so you can jump in wherever you are at, and not worry about checking those pesky dated boxes! Activities take about 30-45 minutes to complete.
"Three to Four" focused on learning to recognize lower and upper case lettters, counting to ten, shapes/patterns, science projects, holidays, music appreciation and cutting (I hate cutting...but, it's necessary to give them scissors sooner-or-later)
"Four to Five" focused writing letters and phonic awareness, counting to 20 (if your child is ready for more - they do include curriculum recommendations) , science experiments, holidays, music in a variety of styles (Mozart to Country Western), introduction to Spanish language, and more cutting!
One of my favorite parts was the inclusion of wonderful, age appropriate book lists. READ, READ, READ! Learning Through Stories is their version of Charlotte Mason's narration for young children - with questions included in the Appendix for many well-loved classic children's stories.
Necessary supplies for the activities are listed, in advance - are are readily available for the most part.
My Testers throughly enjoyed a focused "school time" - just for them! I loved having a resource that was age appropriate, and so clearly explained. You can just pick this up and begin. No "educational theories" to learn first. The Guides are packed with tons of creative - but "easy to do" ideas. Busy moms need to keep it simple, but effective! Plus, it's a very affordable program.
One focus in January was "snow" - We were inspired to create our own circle snowmen. They practiced writing their names too.
"Snow" was such a huge hit - Tester #1 wanted her Valentine box to be a snowman!
The focus of Flowering Baby is simple - ENJOY this journey with your children. Read, play,explore and learn together. The program is very easy to use, and fun memories are waiting to be made. Geometry is right around the corner, trust me!
See what other members of the TOS Review Crew thought
here
.