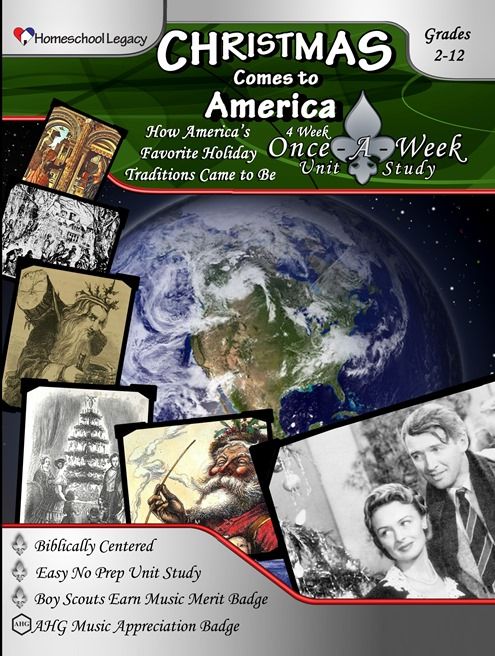 Christmas Comes to America from Homeschool Legacy
The holiday season is right around the corner, and that means it's time for a break from "regular school" and time for UNIT STUDY at Bentz Test Laboratory. This year, our focus is Christmas Comes to America from Homeschool Legacy.
This study is one of the "Once-a-Week" unit studies. These 2nd grade-12th grade studies are Biblically centered, noprep (perfect for the all ready packed holdiay season!), easy to incorporate into your current study, cross curricular studies that you spend one day a week with. The study also contains information for Boy Scout and American Heritage Girls badges (we don't do these, but it is a nice feature) Each study includes:
BIBLE
QUALITY LITERATURE
LANGUAGE
HISTORY
SCIENCE
GEOGRAPHY
RESEARCH
ARTS & CRAFTS
ART APPRECIATION
MUSIC APPRECIATION
LIFE SKILLS
FIELD TRIP SUGGESTIONS
FAMILY GAME & MOVIE NIGHTS
I love that the entire family can be learning together!
Christmas Comes to America
is a 45 page, downloadable PDF. It's focus is on 4 weeks of learning about Christmas traditions that came to America from other countries.
Week 1: The Dutch
Week 2: The English
Week 3: The Germans
Week 4: An American Christmas
Extra Activities include:
A list of suggested Read Alouds and Videos
An "After Christmas Tree for the Birds"
Christmas Trivia Game
More Christmas Ideas
Each weekly lesson can be done in one sitting, or spread out. You can combine this unit study with what you are already doing, or just use it as a refreshing break. Unit studies are our favorite way to learn!
Each week includes a variety of activities to choose from. You DO NOT have to do them all! Simply pick and choose the ones that have the most interest to you and your family.
One of our favorite ideas was making wassail and hosting a party for our neighbors. Since we are doing this study now, we are already booking dates in December with our neighbors. (December calendars fill up quickly) Starting a Christmas study now has given us a jump start on holiday cheer. So many great ideas are included, and by starting early - you will have a chance to use them
Each week contains interesting facts about Christmas traditions, where they came from, and how they are celebrated. Did you know Christmas was once outlawed in America? We didn't either!
My testers favorite activity was the "After Christmas Tree for the Birds" - they are planning all the goodies they can use to decorate a tree in the yard as a special treat for our feathered friends... cranberries, popcorn, oranges, peanut butter. Then, we are going to participate in the Audubon Society's Christmas Bird Count.

The Christmas Trivia is perfect for your Co-op or Small group activity. We stumped dad with many of them!
I love how easy Homeschool Legacy makes unit study learning. All you need to do is download, and take a trip to the library. I promise... you and your family are going to love it!
Be sure to check out the other studies the Crew has been reviewing:
Hashtags: #hsreviews #unitstudies #historyunitstudies
See what other Members of the Crew thought here