MyFreezEasy.com Freezer Meal Plan Membership from MyFreezEasy
This is a new FAMILY FAVORITE -
MyFreezEasy.com Freezer Meal Plan Membership
from
MyFreezEasy
!
This online subscription allows you to build and print your own meal plans with just a few clicks of a mouse. This easy-to-use site offers several options to make meal planning easy.
You can choose from pre-designed meal plans for the month. The plans include 5-10 recipes that can make 10-20 meals. You can make and serve, or make and freeze for later. Each plan includes the recipe, shopping lists, assembly instructions and labels. Recipes include modifications to make them gluten or dairy free. They offer various plans to choose from, and plans are updated monthly. We were able to download September's plan and October's plan during our review time. We tried almost every recipe and they were all hits with my family!
Plans include: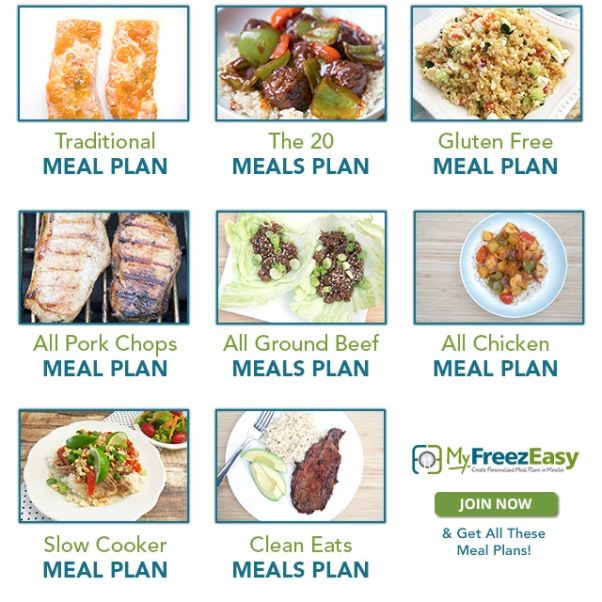 You can build your own meal plan with the MyFreezEasy desktop app. Your customized plan will include recipes, shopping lists, assembly instructions, labels and even video instructions for 5 meals that you select. Build your own plan allows you to access the vast recipe library that is organized in easy to search categories including:
Chicken recipes
Slow-cooker recipes
Ground beef recipes
Dutch-oven or saucepan recipes
Gluten-free recipes
Other beef recipes
Baked recipes
Dairy-free recipes
Pork Chop recipes
Gluten-dairy-soy free recipes
Skillet recipes
Other pork recipes
Grilled recipes
Paleo/Whole 30 recipes
Seafood recipes
Vegetarian recipes
One-dish meals
Top 8 allergy free recipes
Simply select the meal you want, including number of servings and drag it to your custom plan. Being able to select an 8 serving plan was HUGE! With 9 people at home (and some of them little) this is the perfect size for us. It was so nice to have the correct measurements, and not rely on my math skills for doubling or tripling the recipe! Add 5 meals, and your plan is created and ready for you to print in a handy PDF file.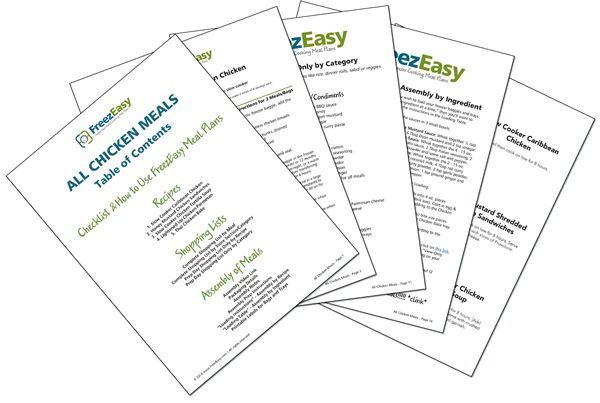 If you need help, My FreezEasy includes videos that will walk you through the assembly process for the month's meal plans. Additional how-to videos will teach you the basics of flat freezing and safe, quick thawing, in no time. A Bonus Side Dish cookbook is included with your Premium membership. This was another sanity saver for me - I never know what to make in addition to the main dish. The plans all include a recommended side to serve as well. I printed out the Side Dish Cookbook and kept it in my recipe binder for easy use.
My main tester is my right-hand kitchen helper...my 13 year old. She has fallen in love with creating new meal plans for us with the desktop app. (it's that easy to use!)
Some of our new family favorites are "Lazy Lasagna Bake" and "Bacon Ranch Chicken". They ask for them over and over. With the plan, we make one to serve and one to freeze and save for a busy night. The prep and assembly instructions make it so easy.
The Crockpot meal plan is far and away my favorite. We are busy and on-the-go most nights and utilizing my crock pot with these yummy recipes has been a lifesaver. Be sure to try "Slow Cooker Beef Stroganoff" - your family will love it.
Meal planning has never been so easy!
Find
MyFreezEasy
on
Social Media:
Facebook:
http://www.facebook.com/freezeasy
Instagram:
http://www.instagram.com/freezeasy
Pinterest:
http://www.pinterest.com/5dollardinners/freezeasy
Hashtags:
#hsreviews #freezeasy #freezermeals #5dollardinners #freezercooking