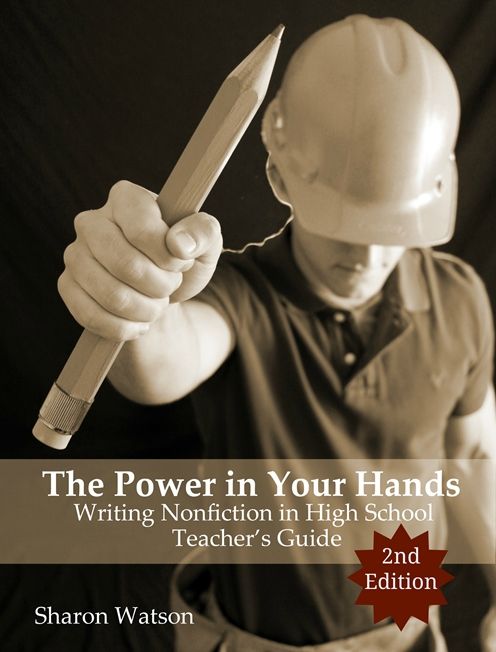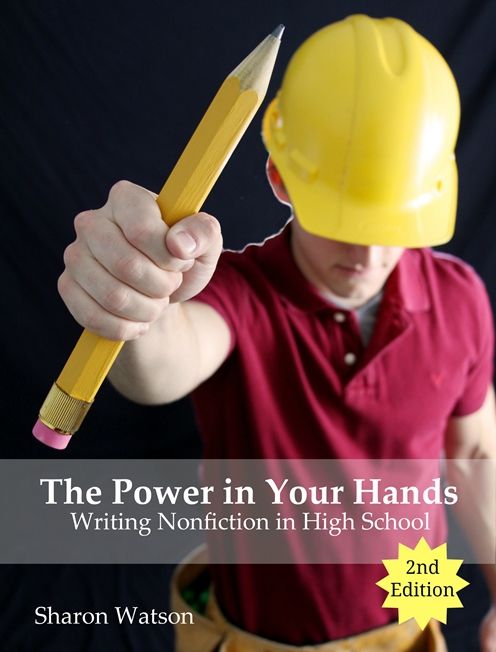 What?! We have to teach writing to high schoolers?! I think I may have missed that chapter in "What to Expect..." - Just kidding! High school writing can actually be fun - we have been enjoying The Power in Your Hands: Writing Nonfiction in High School, 2nd Edition from Writing with Sharon Watson.
This is an updated version of a high school level writing course that will give you everything you need to teach your high school students to write many forms of nonfiction writing like essays and research papers.
This course is available in either print or downloadable PDF ebook format. It contains 23 chapters, which is a full year credit of high school writing. It's written for your student to be able to work and learn independently. Some of the essays they will complete cover reports (process writing), letters, newspaper articles, biographies and narratives. Persuasion, exposition, description and narration styles are all taught with easy to follow step-by-step instructions.
My high schoolers have spent the year exploring their creative sides this past year. Now - it's time to get serious about teaching the type of writing that will help them succeed in college and beyond.
I love how easy to use Power in Your Hands: Writing Nonfiction in High School is. We have been working in the print editions this summer. The set contains a Student Book and a Teacher's Guide.
The Student Guide is written directly to your student. I really like to move my high school students to more and more independent work. This is a great tool! My teens appreciated the sense of humor, and the direct approach of Sharon Watson. She starts by helping them discover "Your Writing Self" with some descriptions for them to consider. From "I like playing with words... forget everything else and let me write" to "I don't care one way or the other about writing" - your teen will find themselves!
Each chapter begins with an inspiring quote - I loved these!
The author intentionally captures their attention, and then keeps the lessons short. She asserts "writing takes time - 100 words = 1 hour". No wonder... I thought my high schoolers were just stalling! Each assignment averages 300-500 words, but is broken into shorter, manageable sections.
Different styles of writing are taught systematically:
Persuasion - with logical appeals, compare & contrast, moral & ethical appeals, and emotional appeals
Proofreading & Grammar Mistakes
Exposition - letters, emails, process (how to's), and position papers. Includes lessons on MLA.
Writing a Devotional
Newspaper Writing
Biographies
Compare & Contrasts
Literary Analysis
Definition Essay
Descriptive Essay
Narration - personal testimony, interviews, personal narratives
The Teacher Guide gives you everything you need to be able to effectively evaluate and grade your student's writing (the hardest part!)
I especially appreciated the examples included in the "How to Earn a A,..B...C...D" section. I'm better able to grade writing when I have an example to work from.
Easy-to-use rubrics are included for each of the 23 writing assignments. My students like to know exactly what they need to complete the assigment and it gives me just the tool I need to give non-biased, objective grades too.
Both of my high school students were extremely pleased with this writing program.
I was VERY impressed with the depth of this program! In fact, I plan to use it with my Co-op Writing class this fall.
If you have high school students, you need Power in Your Hands: Writing Nonfiction in High School!
Other members of the TOS Crew got a chance to review 21 Grading Grids for Popular High School Essays and a Position Paper. Be sure to check it out as well!
Find Writing with Sharon Watson on Social Media:
Facebook:
https://www.facebook.com/WritingWithSharonWatson
Pinterest:
https://www.pinterest.com/writingwithshar
Hashtags:
#hsreviews #highschoolwriting #writingcurriculum