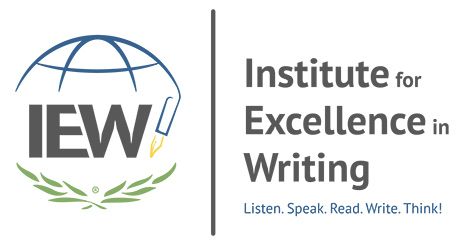 Linguistic Development through Poetry Memorization from Institute for Excellence in Writing
I have another favorite! We have been exploring Linguistic Development through Poetry Memorization

from

Institute for Excellence in Writing.

Once again, IEW has produced a must-have program to teach communication skills.
This set comes with

ninety-six poems and speeches the poems and speeches read on CD for ease of memorization. The Teacher's Manual includes instructions, memory charts, certificates, and poet biographies, as well as a complementary Student Book as an e-book download (I was blessed with a spiral bound edition).
This set includes a bonus DVD of Andrew Pudewa's conference talk Nurturing Competent Communicators

.

(this is worth the cost of the program alone!) In addition - you get access to 7 audio MP3s as well:
Nuturing Competent Communicators
Mastery Learning, Ability Development and Individualized Education
Ten Thousand Times and Then Begins Understanding
On Listening
On Speaking
On Reading
On Writing
This would make a great summer project for you. You will learn and be encouraged!
Check out free samples of the manuals, listen to a poem, and see a list of the poems included in the program here.
This program can used with multiple children of multiple ages. My testers ranged from 1st -12th grade.
Once again, Andrew Pudewa teaches you how and why to teach your children. This has been so fundamental to our homeschooling efforts. Putting the effort in up front to learn the program myself, has yielded a bountiful harvest in my children! This program is very easy to learn!
"You can't get something out of a child's brain that isn't in there to begin with." - A quote from the Teacher's Manual. This is so very important! If we want masterful communicators, we need to train them in masterful use of our language. This is where poetry memorization plays a huge role.
"....but, if we don't provide the content and opportunity for organized memorization kids will let popular culture be their teacher." Poems are usually fun, easy to memorize, present excellent vocabulary skills and are actually building neurological connections in our children's brains!
This program will take several years to complete start to finish. They recommend starting at Level One and proceeding through the five levels in order. Even though this was our first experience with this program - it was not our first focus on memorization. I let my older children start at the level they were ready for...
The poems included are all carefully chosen, and you can always substitute with your own choices if you want.

The Student Manual has copies of each of the poems, IEW graciously allows you to make copies for your immediate family. Lower levels have a drawing on the poem's page that can be colored, if you choose. The Appedix features brief biographies of the authors that you can use for introduction and discussion. The CDs include audio recording of each poem. This is a great way to turn car time into memory time and provide the necessary repetition.
The Teacher Manual outlines the process of poetry memorization, and gives you all the tools you need to teach this. "Graduation parties" for completion of each level are encouraged. This is a chance for your child to share his recitation with friends and family.

We had the perfect opportunity to show off some of the poems we had been working on at our end of the year celebration for our Co-op. I was so very impressed with each of my testers!
Level 1 - Who Has Seen the Wind? by Christina Rossetti and The Swing by Robert Louis Stevenson
Level 2 - The Height of the Ridiculous by Oliver Wendell Holmes and
Level 3 - O Captain! My Captain! by Walt Whitman
My older children all chose Shakespearean soliloquies to memorize and recite. Hamlet, Juliet, Shylock and Macbeth. Not only memorized, but delivered with style.
This is a wonderfully rich program. It's not hard to include in what you are already doing, and it gives a very satisfying result. I promise - you will enjoy this as much as your children!
Find Institute for Excellence in Writing on Social Media: