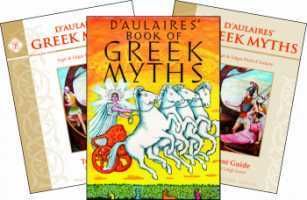 D'Aulaires' Greek Myths from
Memoria Press
The Bentz Test Laboratory has been exploring ancient history with D'Aulaires' Greek Myths from Memoria Press. We were fortunate to have received this set to review. The Set includes

:
Designed for Grades 3-6
My tester is my 5th grade daughter. She has been begging to learn more about the Greek Myths, and this set showed up just in time!
This set uses the beautifully illustrated
D'Aulaires' Book of Greek Myth
s By Ingri & Edgar Parin d/Aulaire to introduce your student to the stories of the Greek myths. The Greeks developed a detailed, imaginative world of mythology. A basic understanding of these myths provides a wonderful basis for understanding art, culture, literature and even science.
This introduction will give you plenty of great stories to spark discussion with your child. How are these stories similar to the Bible? How are they different? Great character lessons are part of studying the Greek myths.
The Student Guide uses for types of exercises:
Facts to Know - the memory work portion.
Vocabulary - new and challenging words.
Comprehension Questions - identifying what they are learning, and practicing writing skills.
Activities - enrichment activities like drawing, research, maps and more.
The guide also integrates lessons from Bible stories,
Famous Men of Rome
and the modern world.
The valuable Teacher Guide has all the answers to every exercise in the Student Guide, Tests w/answer keys and a Final Exam.
The flashcards are perforated and provide an easy to use tool for reviewing the characters and what they did.
My tester worked on this very independently, and really enjoyed it. We listened to the popular Percy Jackson series awhile back, and she was so excited to learn more about the characters.

I know mythology "can" be a touchy subject in some homeschools. We have decided to teach the myths as MYTHS (made up stories, just like we make up stories) at early ages when we are learning the appropriate historical context. As they get older we and have found that we are able to have wonderful, teachable conversations by approaching it this way.
Memoria Press has made a very easy introduction to the Greek Myths. We highly recommend it.
Other members of the Crew were reviewing additional sets from Memoria Press - make sure to check them out.
Traditional Logic I Complete Set
Book of Astronomy Set
Suggested Hashtags: #hsreviews #classicaleducation #homeschooling
See what other members of the Crew thought here