Introductory Science
from
Science Shepherd
The youngest scientist at Bentz Test Laboratory has been busy exploring Introductory Science

from

Science Shepherd. This an online subscription program designed for students ages 6-11. We were given access for 12 months and my tester is in First Grade. Students can work independently, at their own pace through 35 weeks. Each week contains 5 lessons.
Videos provide the instruction, and the physical, spiral-bound 321 page Student workbook is available in 2 levels: A (ages 6-8) or B (9-11). We worked with Level A, it contained exercises like fill in the blank, word find, and matching. Optional video hands-on activities are included as well.
The Answer Key provides answers for each exercise in the Student Workbook.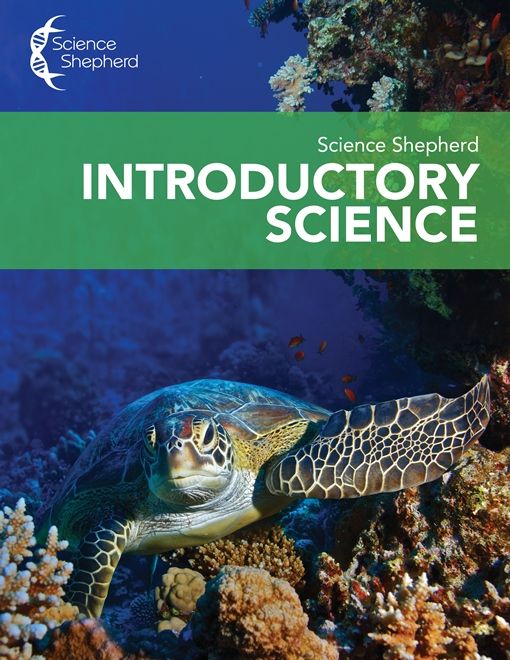 Topics covered in this program include:
Science Skills & Tools
Meterology
Geology
Oceanography
Plants
Astronomy
Underwater Creatures
Flying Creatures
Land Creatures
Human Beings
Health
Ecology
Physical Science - matter, energy, motion, magnets
Dr. Scott Hardin, a practicing physician as well as a homeschooling dad of six is the creator and the instructor of this program. The videos are very short, and feature his teaching, as well as, slides, animations, demonstrations and more.
My tester wasn't thrilled with "watching" science at first... However, she was quickly won over by the videos! She even chose to watch more than one lesson at a time. Dr. Hardin is an engaging teacher, and the videos are very well done, and short- usually 2-5 minutes each ;-)
We used the Student Workbook - Level A, mostly as a basis for discussion. Our favorite part is the Optional Video Activities that the workbook includes. All of them use simple household supplies (many just paper and pencils) to illustrate the scientific topic with a hands-on activity.
Here's a few of ours... Classification and the Creation week.
I love this program is geared toward younger scientists and is taught from a Biblical, creation worldview.
The lessons were very easy to fit several into one sitting, for us. We also focused more on the hand-on and skipped the workbook page exercises. My tester may have preferred Level B, since the workbook was too simple for her.
The topics are all very high interest ones. We look forward to completing the entire program. This is a great science option! Be sure to check out Science Shepherd's programs for older students as well - Science Shepherd Biology & Science Shepherd Life Science.
Find

Science Shepherd on Social Media:
Facebook - https://www.facebook.com/ScienceShepherd/
Twitter - https://twitter.com/scienceshepherd
Pinterest - ​ https://www.pinterest.com/scienceshepherd

Hashtags: #hsreviews #homeschoolscience #onlinescience
@scienceshepherd
See what other members of the Crew thought here