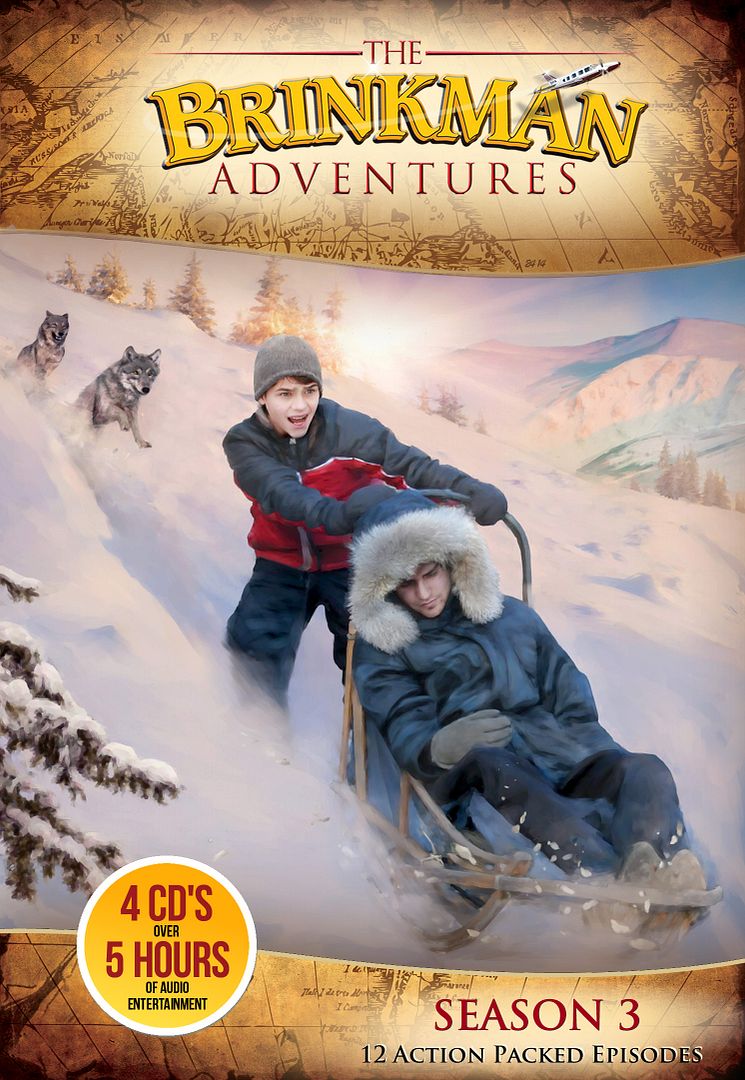 Brinkman Adventures exciting new audios
The Brinkman Adventures: Season 3
12 new episodes with 5 hours of family friendly listening excitement (available on 4 CDs or as an Mp3 download)
Episodes in Season 3 include…
God's Mule
Mountain Mover
The Silent Ambassador
Translating Trouble
Man-Up
Acorns & Oaks
A Saint's Story, Pt. 1 A
Saint's Story, Pt. 2
Untouched Busy Bees
Bullhorn Missionary Tourist, Pt. 1
Missionary Tourist Pt. 2
The Bentz Test Laboratory LOVED this one!! We spend countless hours in our van on the way to various activities. We enjoy passing this time listening to audio dramas, and this is most certainly a new family favorite.
The Brinkman Adventures Series tells real life missionary stories with big family adventures as they travel around the globe sharing the Gospel. Their names have been changed for protection, but the actors/actresses play themselves. What could be better...missionaries and BIG families, this is right up our alley.
Even though we had not listened to Seasons 1 & 2, we were able to jump right in and join the adventures of Season 3. My testers range in age from 6 to 18 years old, and everyone loved them.
The sound quality is excellent, you can tell they have been professionally done. Each episode was about 30 minutes long, which was the perfect length to listen to in one sitting (or riding...)
The very first story had all of us on the edge of our seats..."God's Mule" was about a young man following God's call to leave Harvard and begin smuggling Bibles to a closed country (they changed the country name as well.. but, it's a true story). WOW! This hit so close to our hearts, my oldest tester and I just returned from a mission trip to India. The miracles of taking thousands of Bibles through hostile customs without a hitch were inspiring stories full of action and adventure.
That's what I appreciate most about these audios. They are designed to both entertain and inspire. There is no better thing to fill your children's ears, minds, and hearts with than stories of God's power and faithfulness in the lives of real people, just like them.
"The Silent Ambassador" was also very timely... It's a story about a young girl overcoming her own inscurities to start a "Shoebox Club". My testers had just packed their shoeboxes for our church's version of Operation Christmas Child. They listened to how God uses even young kids to do BIG things. My testers want to form their own "club" next year.
I love this quote from Steve Saint - "Brinkman Adventures tell incredible stories that God writes about people who offer their will as HIS quill and their lives as HIS slate," What a testimonial!
Visit Brinkman Adventures

to find out more about the actual missionaries and behind the scenes information.
They sell these amazing audios for a suggested donation of $27.99 for the 4 CD set or $17.99 for MP3. The donations go to supporting missionaries around the world, as well as producing more faith filled adventures to share. These would make excellent Christmas gifts...I know the Bentz Testers will be finding them in their stockings.
Be sure to sign up for the Brinkman Adventures newsletter, and you can download three free episodes!
Find Brinkman Adventures on Social Media:
Facebook:
https://www.facebook.com/Brinkman-Adventures-152895116079/
See what other members of the Crew thought here