Practical Critical Thinking
and
Teacher Manual
from
The Critical Thinking Co.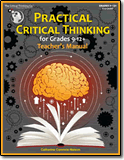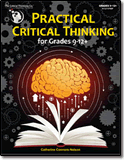 For grades 9-12+, This is a combo of a 376 page color, Student book and the accompanying 240 page, black & white - Teacher's Manual.
The Student Book is in color. A very nice touch, it makes it instantly more appealing to today's teenagers. This program really focuses in on developing Critical Thinking in our teens. By focusing on emotion and meaning, we get them motivated, grab their attention and build their memory.
The book is organized with 4 Units, each unit includes 2 chapters, and each chapter features 7-9 lessons. The lessons are short and concise. My testers enjoyed the variety and the humor.
We love to start our school day with Critical Thinking as a way of "waking up our brain". Take a peek at the contents:
Unit 1. Becoming a Critical Thinking -
Chapter 1: The 411 About Critical Thinking
Chapter 2: Playing Games, Doing puzzles: Practice Critical Thinking Skills
Unit 2. Adding to My Critical Thinking Toolbox
Chapter 3: Some Basics Concepts for Critical Thinking
Chapter 4: Critical Thinking and Language
Unit 3. Critical Thinking and Arguments
Chapter 5: Analyzing Arguments
Chapter 6: Informal Fallacies
Unit 4. Applying My Critical Thinking
Chapter 7: Advertising
Chapter 8: Eyewitness Testimony, Direct & Circumstantial Evidence
This program is designed to be used either independently (the way we did) or can be used in a classroom setting. I think it would make a great Co-op class! Different activities are used to teach and practice essential Critical Thinking skills like; evaluating evidence, creative problem-solving, ambiguity, doublespeak, vagueness, arguments, fallacies, advertising, eyewitness testimony and more.
Activities include:
Thought Experiments
Student Polls
Practice Sessions
Games and Puzzles
Predictions
Important Takeaways
Teacher's Manual is a valuable addition to this program! It's divided into two sections:
Answers - I need this section to make sure they are on the right track. Critical thinking is much more complex than simple math solutions. This is where you get to stay one step ahead of your teens.
Reproducible Activities - Nice, especially if you are using this with multiple students.
Check out some of the other great products from
The Critical Thinking Co.
that the Crew Reviewed:
Fun-Time Phonics! (Gr. PreK-2)
Surfing the Net: Science (Gr. 3-6)
The Basics of Critical Thinking (Gr. 4-9)
U. S. History Detective, Book 1 (Gr. 8-12+)
Find The Critical Thinking Co. on Social Media:

Facebook: https://www.facebook.com/TheCriticalThinkingCo
Google +: https://plus.google.com/114500823774999703181
Twitter: https://twitter.com/criticalthinks
Pinterest: https://www.pinterest.com/source/criticalthinking.com/
See what other members of the Crew thought here