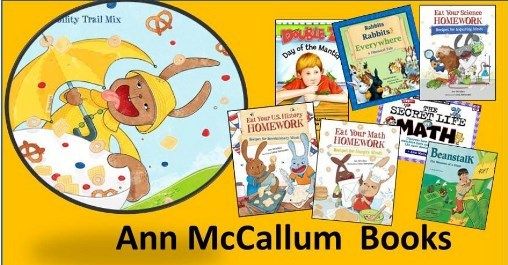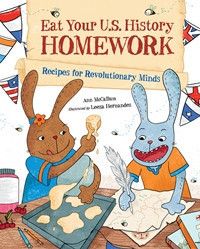 Eat Your U.S. History Homework: Recipes for Revolutionary Minds from
Ann McCallum Books
Check out this 48 page colorful, hardcover book that gives you a history lesson and a historically inspired recipe for 6 time periods in American History with tasty treats that are easy to make.
The Pilgrims at Plymouth, 1620 - Thanksgiving Succotash
The Thirteen Original Colonies, 1607-1776 - Colonial Cherry-Berry Grunt
The French and Indian War, 1754-1763 - Lost Bread
Slaves and the Southern Plantation, 1619-1863 - Southern Plantation Hoe Cakes
The American Revolution, 1775-1783 - Revolutionary Honey-Jumble Cookies
The Declaration of Independence, 1776 - Independence Ice Cream
The Bentz Test Labortory is studying American History this year, so
Eat Your U.S. History Homework
was the perfect compliment to our studies, after all...who doesn't love to eat?
Ann McCallum
believes that we are all connected by our "
need for and love of food
" - I believe she's right! This is a great resource for your 7-10 year olds, but all of my testers love to eat!
Each section begins with a short history lesson, perfect for introducing your children to this time period, and whetting their appetite to learn more. Key words are in bold, and can be found in the glossary in the back, as well as a timeline.
My young testers loved the "rabbit" in the cute, whimsical illustrations by Leeza Hernandez, the illustrator throughout this book.
The historically inspired recipe follows the history lesson. We got a kick out of some of the "authentic" ingredients...i.e. Thanksgiving Succotash features not only bacon, but "2 hot dogs". Wonder what the Pilgrims would think about that today :-)
The recipes are very easy to follow - and include illustrations of each step. (I wish all my cookbooks did that!) My testers could easily follow along.
There are "side dishes" through out the book as well. These add another tidbit of history for your children to digest. Most of these "side dishes" contained questions you can use to expand learning. For example... "
Take a look in your refrigerator, what food items would have been available to the Pilgrims of 1600?
" This is where we laughed about the hot dogs!
On their website - I found a great
17 page Teacher's Guide
to go along with this book that you can download. It contains games, maps, graphs, activities and more. This is a great way to add to the learning.
We all really enjoyed both reading and cooking from this book. I think history is so much more memorable when you get to eat your way through it. Sharing time in the kitchen together makes for some of your very best homeschooling memories!
Be sure to check out the other Ann McCallum titles:
Eat Your Math Homework