Fascinating Chemistry from
Fascinating Education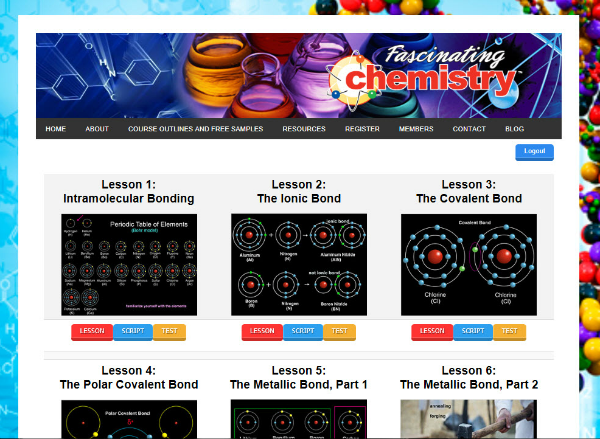 Fascinating Chemistry from
Fascinating Education is an online science curriculum to help you tackle the sometimes daunting world of Chemistry, Biology and Physics for middle to high school students. One year subscriptions are available in any or all of the 3 subjects.
In Fascinating Chemistry - there are 18 lessons introducing chemistry concepts and a 19th lesson covering the math/formulas of chemistry. Topics covered include:
The Structure of the Atom
The Ionic Bond
The Covalent Bond
The Polar Covalent Bond
The Metallic Bond Part 1
The Metallic Bond Part 2
Heat
Air Pressure
Properties of Water
The Mile
Gases
Solutions
Chemical Reactions
Orbitals
Molecular Geometry
Electrochemistry
Polymers
The Nucleus
Each lesson is about 45 minutes to 1 hour. Colorful slides and narration from the author, Dr. Margulies, present the information in a way that may "right brained", visual learners will find memorable with pictures, charts and illustrations.
Each lesson also includes a printable written script that can be used to follow along with the lesson, as well as, multiple choice tests that can be printed or completed online. Throughout the lessons there are "What You Know So Far" slides that review the material that they have covered. The program does not track test scores, so your student needs to record their scores and keep track of where they left off. We liked that we could also skip around in the program easily to pinpoint areas that we wanted to view.
Although it could be used as a full curriculum, my tester is using this as a supplement to his regular chemistry course. Fascinating Chemistry does include labs (which we didn't do since this was being used alongside our other program). However, the labs contain supplies that are easy to find in the home setting with clear instructions.
My tester enjoys having the ability to use Fascinating Chemistry as a supplemental resource to help him review concepts and problems. He finds it very easy-to-use and comprehensive. The detailed vocabulary and glossary are a very valuable component of this course. His only complaint is that the narration could be a bit livelier. (I think it's because he normally has a VERY lively teacher...anyone who knows me?)
If you are wondering if this is from a Christian worldview (evolution free) - be sure to check out the FAQ page:
"Religious views and scientific views differ, and Dr. Margulies does not see his role with these curricula to argue in favor of one or the other. His role is to describe the forces in the universe and how they play out in our everyday lives without addressing how those forces came into being or whether forces are being manipulated by God in some way.
Science views the world one way and religion another way. The origin of man is probably the best example of how the two approaches differ. Dr. Margulies believes it's important to understand each viewpoint without feeling that understanding a viewpoint means you adopt it."
I like that it requires very little teacher involvement from me, Chemistry isn't one of my favorites. This is a great way to tackle upper level sciences, pain-free!

See what other members of the Crew thought here