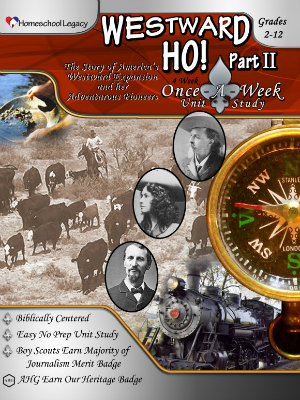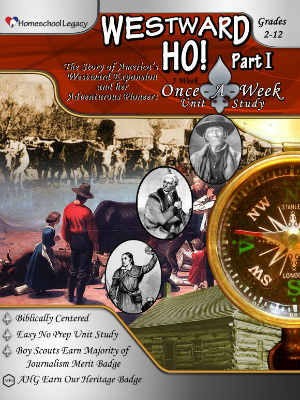 These studies are part of their
Once-a-Week Unit Study
approach. They are all Biblically centered, no-prep (can I hear an amen?), easy to incorporate into your current study, cross curricular studies that you spend one day a week with. They also
accommodate Boy Scouts and American Heritage Girls programming. We don't have any of those at Bentz Test Laboratory...but, it's a nice feature! These studies are very affordable, around $20 each and can be used with the entire family (grades 2-12). It's easy to accommodate your younger kiddos too.
Watch this short video to hear the author explain her approach:
We are fans of this approach because - we can take any subject and unleash the learning! Unit studies really cement what they are learning so much better than the textbook approach. They also create wonderful family memories! These studies are filled with hand's-on projects that truly accommodate all learning styles. I love that my entire family can be learning together, without extensive prep work. Each study incorporates all these subjects:
LANGUAGE

HISTORY

SCIENCE

GEOGRAPHY

RESEARCH

ARTS & CRAFTS

ART APPRECIATION

MUSIC APPRECIATION

LIFE SKILLS

FIELD TRIP SUGGESTIONS

FAMILY GAME & MOVIE NIGHTS
and our personal favorite:
We were blessed to get to check out 2 studies that perfectly complement our American History study.
Frontiersmen
Pioneer Life
Lone Star Republic
The Life and Times of James K. Polk
The Oregon Trail
It's a simple concept, just eliminate other subjects from your schedule for ONE day of the week. Replace those with suggestions from this study. These studies are flexible enough to be added to your current curriculum, but comprehensive enough to BE your current history or science curriculum!
Plenty of great read aloud selections are included for you to pick from. Field trips too! We are currently smack dab in the middle of this time period of American History and were delighted with all the activities, and even added some unforgettable field trips unique to living in Texas.
Frontiersmen
- Davy Crockett is a prominent figure... this was DELIGHT driven learning for my 8 year old tester. We took some suggestions from the study and went on an unforgettable field trip to the Alamo to meet "Davy Crockett" himself, and he even got to hold the "gun"!

Pioneer Life
- can you hear the squeals coming from my girls? Yes, Laura Ingalls Wilder and
Little House on the Prairie
...and it's "school?! We love all the movie night suggestions - a great way to build in family time, and you don't have to go searching for appropriate suggestions. The study has done all the hard work.
Lone Star Republic
- Our favorite week - in fact, we are continuing this for many weeks to come, since we just moved to Texas. Each week offers suggestions for crafts and hand's on activities - here are two of our Texas theme creations. Mapping and geography lessons are woven into each week. Of course, we wanted to "Remember the Alamo" with a memorable field trip at dawn!
The Life and Times of James K. Polk
- we focused on the expansion of the US. Each week introduces new and notable characters and includes a Bible study. These are very well done. My boys are now tapping out Morse code messages to each other after "lights out".
The Oregon Trail
- what a fun week! "
You have died of dysentery
". Yep - introduce your kiddos to the Oregon Trail computer game, available online now. We are still reading a great read aloud about 7 children that loose their parents, but continue on to Oregon. So many valuable life lessons are embedded in these studies.
Westward Ho II
– This study (4-weeks) continues the adventure westward. Topics explored:
Gold Rush - learn about Sutter's Mill, California and Levi Strauss while making your very own business plan.
Life on the Prairie - we simply cannot get enough of Laura Ingalls Wilder around here. But, there's more to explore in this week like: Abraham Lincoln and the effects of freedom for the newly freed slaves, creating your "vitual soddie" on line and learning about the ecosystems of the American Prairie . They did ask to make one in the backyard but, since our grass is dead... it was a no go ;-( These studies are filled with links that help you find all the goodies online! One reason that I prefer the digital PDF option over a print book.
The Great American Railroad Race - A memorable Bible devotion on "visionaries" -

"So the next time you find yourself thinking you

can

't

do something or are told by the

naysayers it is

impossible,

remember the visionaries who have gone before you who said,

"

It can be done." Wonderful discussion points for the entire family!
Cowboys and Cattle Drives - Longhorns, cowboys - YEE HA! This is a fun week. Can't believe I said this... "While you may design your own brand children, you MAY not actually brand anyone or the pets." Yes, you will create family memories doing these studies!! One of our favorite sections is the "Stump Your Dad" trivia questions at the end of each week.

! Stump Your Dad Trivia:

Q: When and where did the term "cowboy" originate? Dad thought he knew..."Texas, of course." Followed by squeals of laughter as he is corrected: "No dad!"

A: In New York during the Revolutionary War

It was common for colonists of the 1700s to allow their cows to roam free, so they
dangled a bell from the cows' necks. The bell jingled as the cow grazed making it easier
for them to be found.

Young men in New York who were loyal to the King of England took advantage of this
fact. They knew hungry soldiers would grab any food they could get their hands on, so
they pretended to be a cow caught in the brush by hiding and jingling a cow bell. Fooled,
the patriot was captured by the cowboy. It was not until many years later that the term
was used for cowhands on the western frontier.
Of course, we went to the Rodeo...We do live in the heart of Cowboy country!

If you are ready to breathe some LIFE into your learning, I highly recommend adding some unit study to your plan.
Homeschool Legacy
and their
Once-A-Week
studies make it easy for you. With many titles to choose from, you will find the perfect adventure for your family.
Try one- I dare you! You won't be content to just "read about it" any more...
Check out some of the other titles: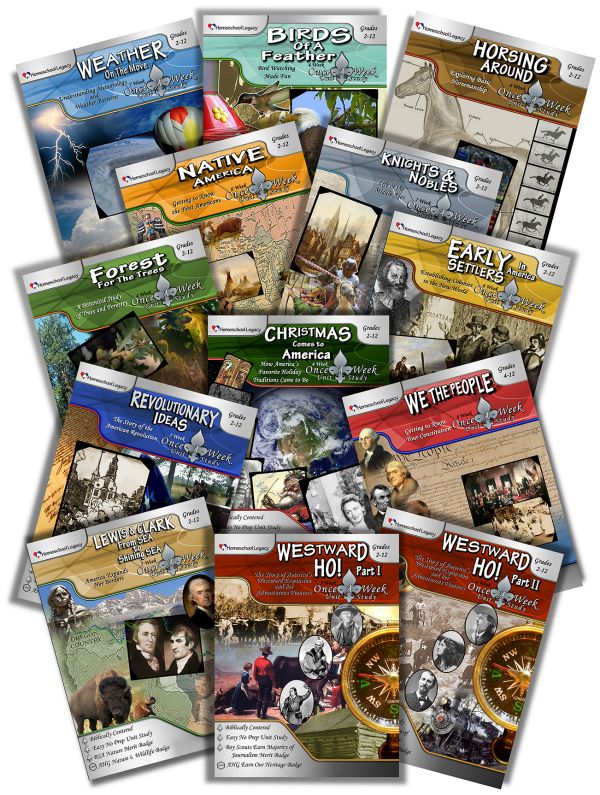 See what other members of the Crew thought here