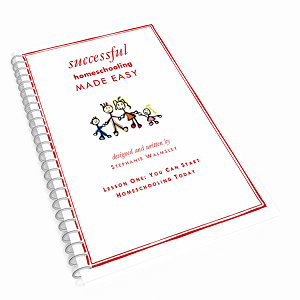 Author, Stephanie Walmsley began her homeschooling journey back in 1985. Now, she has created an easy to follow plan for you to follow in her footsteps, the
Successful Homeschooling Made Easy Course
. This is a 26-week-long online course for homeschooling parents. Each week the course member gets an email with a PDF lesson attachment. It's $10.00 a month (for 5 months) or a one time payment of $48.50.
At the Bentz Test Laboratory, we have been at this homeschooling journey for the past 13 years - *gasp, breathe, gasp* Even after all these years, and now 8 students strong... I never feel completely confident that I am doing this "right". Can anyone relate? The
Successful Homeschooling Made Easy Course
from
Successful Homeschooling Made Easy
is a wonderful resource both for brand new homeschoolers and veterans alike.
Every week -you will get an email with a PDF lesson that you can download. The author recommends printing them out and saving them in a binder. You will have assignments throughout the course that want you to write things down, and spend time contemplating. I don't know about you, but - I can sometimes "contemplate" at the computer, and sometimes I need a quiet corner and a cup of coffee! For the digital mommys out there- you can read this on your device while you're hanging out at ballet or soccer practice too.
Each of the 9 lessons I got a chance to work through, move baby step-by- baby step in a very systematic way. Each week's PDF leaves you with an assignment to work on until the next week's arrives. Stephanie offers many additional book suggestions for you to read and learn more.
Start Homeschooling Today

Math Made Easy

Welcome Home

Fireproof your Homeschool

Three Key Ingredients for Success

Fulfill Your Dreams

Why Curriculum Doesn't Matter

Let Go of the Good Things

Housework and Homeschool
Lesson 1 - "
Start Homeschooling Today
" - She encourages you to create a schedule that fits YOU and your family, not just a one-size fits all approach. Stephanie gently walks you through creating a 8 week schedule by taking a look at your family's lifestyle. I loved that she suggested an afternoon tea break! (we "used" to do that, I needed a reminder of how good this is!)
Lesson 2 - "
Math Made Easy
" - adding math to your schedule. I love how she focuses on the basics and gradually builds your confidence.
Lesson 3 - "
Welcome Home
" - you get a chance to hear from many different moms how their homeschool journey looks. You will be encouraged to see that everyone is different, and that is part of the beauty of the homeschool journey.
Lesson 4 - "Fireproof your Homeschool" - she encourages you to add FUN activities to your schedule! OH NO, I realized that we have not been having a much fun as we used to... We've been too busy tackling assignments, completing work that I had forgotten that FUN is the best part of homeschooling!! Don't miss this one.
Lesson 5 - "Three Key Ingredients for Success" will help you thoughtfully plan out some goals for your homeschool. What do you want to achieve for this child? How about in 10 years? She links you to a great recommended book list as well.
Lesson 6 - "Fulfill Your Dreams" OUCH! This one got way too close to home...but, the author approaches you in a very loving way. This one needs to be tattooed on my arm. Maybe I could just print it out and post it on the mirror :-)
It is not admirable to be mean to yourself. To give to others at the expense of your own well-being. It's not holy and it's not spiritual. It's foolish. If you are not in top form, feeling rested each morning, feeling confident about each day, how can you give your best to your family and homeschool in the way that you want to do it? Be a wise mother and take time to care for yourself.
And it's never too late to start doing this.
Lesson 7 - "Why Curriculum Doesn't Matter" will help you make sense of the multitude of teaching approaches and homeschooling methods. Once again, the author leaves you informed and encouraged to find the one that fits YOUR family best.
Lesson 8 - "Let Go of the Good Things" was the most valuable lesson for me personally. Taking a hard, honest look at the outside activities that we provide our children with. Are we doing this for them, or for us? Yikes!! Are all these good things really the BEST thing for us or our children. This is one that I'm going to be chewing on for quite awhile.
Lesson 9 - "Housework and Homeschool" will give you plenty of suggestions for actually keeping a home and homeschooling...at.the.same.time! It can be done... there's always HOPE :-)
Overall, I find that I am enjoying reading these quick PDF files each week. I have picked up some new things, and been reminded of great things. The author is truly giving us the gift of her real-life experiences. Recommend this one to your friends!