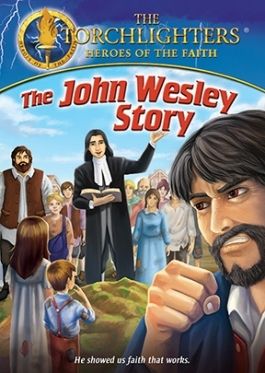 Meet John Wesley, founder of the Mehodists, in this action-packed episode of the Torchlighters! Just - $9.99


FishFlix.com
is an online, Christian movie retailer. Their mission: "
We believe that media and entertainment are gifts from God that help us spread his message with creativity and excellence
."
With everything from apologetics to music videos, you will want to check them out!
There are 13 DVDs in this animated series designed for ages 8-12 (with more in production!) The Torchlighters hope to inspire children to carry the "torch of faith" as lights in a dark world by showing them real-life examples of people that God has used to carry out his will and purposes. My children have grown up watching great Christian heroes like Amy Carmichael, Jim Elliot, Eric Liddell, Corrie Ten Boom, Gladys Aylward and more.


Torchlighter: One who commits to serving God
and passing on the light of the Gospel,
even if the going gets tough.
Torchlighters: The John Wesley Story
will introduce your children to John Wesley. His mother called him a "brand picked from the burning", spared by God for a special purpose. He was miraculously saved from being burned in house fire as a young child.
John struggles to find his own way, but feels only frustration and failure. His own efforts to earn God's love and acceptance leave him feeling dejected. After years, John Welsey embaces God's grace and a new chapter of his life begins. Finding resistance to his message of God's grace from the eighteenth century church in England, eventually leads him to found the Methodist movement which flourishes in both England and America.
Children need heroes... but, true heroes worth emulating can be hard to find in today's society! My children love these 30 minute long, professionally produced programs. I love that they are meeting people worthy of admiration, with faults just like the rest of us. The messages of God's love and redemption are woven into these lives.
Each Torchlighters DVD comes with PDF Leader and Student Guides. The Leader Guide is 23 pages of suggestions for using this video in a 4 week teaching plan with focused lessons, scripture, hands on activities and games to explore the themes from the DVD further.
Session 1 - Faith That Works: Saved By Grace - Faith that works knows that only Jesus saves us from our sins.
Session 2 -

Faith That Works: Growing in Righteousness -

Faith that works requires a changed heart that becomes more like Jesus.
Session 3 - Faith That Works: Walking the Talk - Faith that works does what God commands.

Session 4 -

Faith That Works: Galloping with the Gospel -

Faith that works shares the good news of the Gospel with others in both our words AND our actions.
In addition, supplemental resources are included to explore the life and times of John Wesley further including: information about the people in John Wesley's life, a timeline, and historical information about the time period he lived in. These are an excellent resource for your Sunday school class or Coop group. I've used many of them with our Bible Bee study groups as well.
The Student Guide is a 25 page treasure chest! I love that it is a PDF that I can pick and choose what and how many to print.
A scripture memorization chart

The Gospel Trail - a visual chart of the path to salvation

Word find

Comprehension Questions

"Holy Club" service project suggestions

Designing your own Coat of Arms

Coloring pages

4 In-depth devotionals to explore themes from the DVD
Another bonus feature is the 55 minute documentary included on the DVD. This is geared more to parents and older children. It's a great way to learn more about the real life hero yourself.
English and Spanish languages and subtitles are included on each DVD too.
Be sure to take a peek at some of the other titles Crew members reviewed from
FishFlix.com
:
Find
FishFlix.com
on
Social Media:
See what other members of the Crew thought here