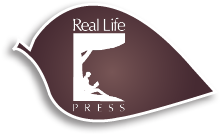 The Busy Homeschool Mom's Guide to Daylight
from
Real Life Press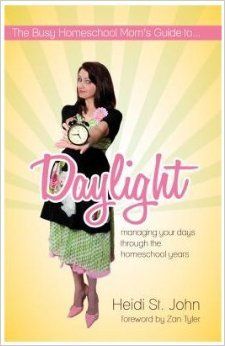 Do you need some real life help and encouragement for these crazy homeschool days?
The Busy Homeschool Mom's Guide to Daylight
from
Real Life Press
is a fabulous resource from a fellow busy homeschool mom of seven, wife and author, Heidi St. John.
This is one that I got to test! Yippee - I got to settle down with my favorite coffee cup, and a good book. What a treat! Right off, I really liked Heidi St. John's style. I felt like she had stopped over to join me, and have a good old heart-to-heart, girl time chat. I needed one :-)
This easy-to-read, 8 chapter book has been written to help you "manage your daylight". Ever feel like the clock is ticking, but you are standing still with the mountain of tasks and responsibilities you have as a homeschool mom and wife towering in front of you? Chapter topics include:
Being intentional with your relationships with your spouse & children.
Getting organized by controlling clutter and reclaiming your life.
Schedules, both the delights and the dangers.
Meal planning, feeding your family without losing your mind.
Dealing with discouragement. If at first you don't succeed, try, try again!
Multi-level teaching. How to streamline teaching multiple students.
Taking control of time wasters (ouch, this one may hurt...)
Surrendering to God and finding His heart for your homeschool.
One concept that grabbed me right away about being intentional was "white space". That space on your calendar that has "
Nada.Zero.Zippo. Nothin'
"
...for at least two days in a row, per week
...What?! I couldn't find blank spots on my calendar, nada.zero.zippo.nothin' - no wonder I feel like I hanging on for dear life, we have been doing just that! Being reminded of this "not-so-new", but being "completely-ignored-by-me" principle would have been enough to buy the book. This is my biggest take-away, we
need
"white space" on our calendar and we have to PLAN to put it there. It won't just happen.
One of the most convicting chapters was "
Wasting Daylight
". Taking a hard, but honest look at how lack of self-control is wasting precious time was an eye-opener. Email, Facebook, media - all are battling for our attention. It's really much more about exercising self-control than managing time. Ouch...some of this chapter hit awfully close to reality! Heidi offers practical suggestions along the way and gives action steps you can take to implement the changes you are ready to make.
Heidi shares from her own experiences - often humorous and always transparent. The tone of the book is encouraging, featuring scripture woven throughout.
This is just the type of book that usually leaves me feeling like I better get busy and change EVERYTHING we are doing... BUT, not this book! Heidi made me laugh, sympathized with me (and she knows how I live...) and encouraged me with GRACE that I don't have to be perfect because my heavenly Father is, and he's got EVERYTHING I need to get this homeschooling task done well.
I'm sure EVERY woman would enjoy this read, not just homeschool moms! It's witty, honest and offers plenty of grace filled advice and practical tips.
Thanks for the girl time, Heidi - I needed it!
Be sure to check out some of the other goodies from
Real Life Press
:
Find
Real Life Press
on
Social Media:
Facebook:
https://www.facebook.com/busyhomeschoolmom?fref=ts
Twitter:
https://twitter.com/heidistjohn
Pinterest:
https://www.pinterest.com/heidistjohn/