Ideal for K-6 (or anyone who needs some practice!) - $24.95
This is a
DOWNLOADABLE SOFTWARE
for mastering math facts. It can be used by eight or more students and will enable your student to practice the following:
Dot Cards (like adding domino faces)
Keyboard Entry (Ten-Key Numbers)
Flash Cards (add, subtract, multiplication, division) ~ Addition/Subtraction goes up through the 9s ~ Multiplication/Division has the option to set it to go up to 9's - 20's.
SYSTEM SOFTWARE REQUIREMENTS: This is for Windows 7, 8, XP and Vista only.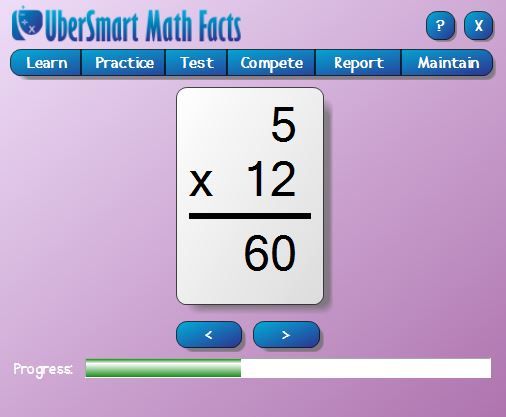 Sometimes, the simplest things are the most effective at Bentz Test Laboratory. Take
UberSmart Math Facts
from
UberSmart Software
for instance. This downloadable software (no annual fees - yeah!) is a simple math facts review program that you can use with 8 children...must have been designed just for us.
UberSmart is the brain child of a father that needed to help his child master those pesky math facts, while dealing with her learning disabilities. When he couldn't find what she needed to help her, he created his own.

My main testers were all elementary age, but several of my older children will find themselves earning some time with this program as well when they need some "brushing up" on math facts. Especially at the beginning of the year.
Starting off with the "Learn" function - my tester could choose between "beginner" and "intermediate" modes. Using either domino-like dot cards, or traditional flash cards, the math facts and solutions are shown to the student.
After that, my tester could move into the "Practice" function, where the same choices are given - but this time, they get to type in the answers. There is a suggested time limit, my tester had plenty of time to answer. You can easily adjust this, if desired.


The "Test" section allows your student to test their skills. You choose the math function, and the desired number sets to test.
In "Compete" - your tester can compete against the other users of the program. Can I say, "friendly sibling competition"? We definitely used this function to my, er... our advantage, nothing encourages math practice like beating your brother!

"Report" & "Maintain" are tools for the parent to check on progress and setttings. By starting off with the assessment test that evaluates skills in counting, sequencing, relationship, odd and even, keyboard entry, and all of the basic math facts in addition, subtraction, multiplication, and division, you can customize each child's target practice area.

My testers enjoyed UberSmart Math Facts. It's not distracting, easy to get started, and really effective. Each of my testers improved mastery of their math facts. I appreciate how easily it can be customized for each child, targeting specific areas they need to work on. Best of all for mom, they can work on this independently.
I think this is an affordable tool to add to your math tool chest - Use the code "v4 Early Bird" in the discount code box during checkout you will get a 30% discount, valid through September 30, 2014
See what other members of the Crew thought here