Spelling You See: Wild Tales (Level C) from

Spelling You See
Spelling You See: Wild Tales (Level C):
Instructor's Handbook $14 - Student Pack $30
Demme Learning
(makers of Math-U-See) has introduced a NEW spelling curriculum! Much like the innovative Math-U-See,
Spelling You See
is an innovative approach to the subject of spelling.
Spelling seems to be a struggle for some of the Bentz Test Laboratory. Several children spell effortlessly... they just "know" it. However, some of the Testers - do not! We've tried many different approaches - all mainly based on mastering the "spelling rules". Unfortunately, the "rules" haven't universally produced good spellers.
When I heard that Spelling You See was about to be released, it instantly caught my attention. Math-U-See has been exactly what these particular testers needed, and I was excited to see if Demme Learning's new approach to spelling could be equally as successful.
Let me explain a little about how this program works. Spelling You See consists of five levels that are based on the five levels of spelling mastery. This is not a "grade or age level program" - it's designed to meet you child at the appropriate developmental level that they are at, and to move them toward spelling mastery. Read more about their
Developmental Stages
and discover which level to start with their
placement
information.
My tester for this is my 2nd grade son who knows all his sounds, spells many common words correctly, and is becoming comfortable with reading. According to his development - we choose
Spelling You See: Wild Tales (Level C) -
you can take a peek at a
sample lesson here.
Wild Tales
focuses on a brief daily activity - they recommend doing it 5 days per week, keeping the lessons short and upbeat. Each lesson incorporates writing, reading, speaking and listening. This helps create a long-term visual memory of the letter patterns. If you're like me, you may spell by writing the word to see if it "looks right", turns out this is one way our brains process spelling. BINGO - we're onto something new in spelling instruction at the Bentz Test Laboratory!
I find myself wholeheartedly agreeing with this quote from their philosophy..."
Those who set out to remember every letter of every word will never make it. Those who try to spell by sound alone will be defeated. Those who learn to 'walk through' words with sensible expectations, noting sound, pattern and meaningful relationships, will know what to remember, and they will learn to spell English
" - Edmund Henderson, 1991
Spelling You See
is based on this developmental spelling model. Accordingly, they say students must master each developmental stage before advancing. No one can "skip" stages in spelling, and spelling ability and reading achievement are NOT correlated. Just as I've always suspected... after listening to my horrible spellers read perfectly!
Wild Tales
begins with 7 weeks of a nursery rhyme theme and moves into non-fiction passages about animals. These topics are both familiar and interesting to the students.
Each of the 36 weekly lessons are divided into 5 parts (A thru E) - each lesson is designed to be completed in just 10-15 minutes per day. The student book is full color with with plenty of room for the daily copywork, free writing and dictation exercises.. (We recieved a pre-release PDF file - which was printed black and white... the color is much nicer!)
My tester started out noticing a difference to this program right away... he got to color in his book! Actually, it's a process called "chunking" - locating and marking specific letter pattens - where he highlighted all the vowel "chunks" (2 vowels together) with a yellow highlighter. He "chunked" while I read the passage, then he copied it, and "chunked" again. Painless, no tears at all!
This same process with the identical passage 3 sections. After that he is allowed to draw a picture to go with the rhyme, or write his own part of the story - this is a "No Rule Day" , encouraging him to be creative . Dictation exercises are included on final day - with a reminder to only spend 10 minutes! The goal is quality, not quantity.
Once "
Vowel
" chunks are mastered, he started on the "
Consonant
" chunks (this time in blue). Moving into "
Bossy r
", "
Tricky y Guy
", "
Silent
", and "
Endings
" - each in a different color.
He actually enjoyed his spelling lesson! I noticed this approach really made him slow down and look at the letters in the words. He even asked if he could start "chunking" other subjects!
The
Student Pack
includes two student workbooks and a pack of erasable colored pencils - $30 and the
Instructor's Handbook
- $14, will guide you through the philosophy and implementation of the weekly lessons, and a handy answer key as well as dictation passages.
I am sincerely impressed with this program. All the different approaches I've tried in the past have been similar in philosophy...and produced similar results (poor spellers, that did not enjoy the process).
Spelling You See
has been a breath of fresh air for our homeschool. These spelling lessons are both effective, and enjoyable! I plan to start my other students in this program as well.
Be sure to check this one out!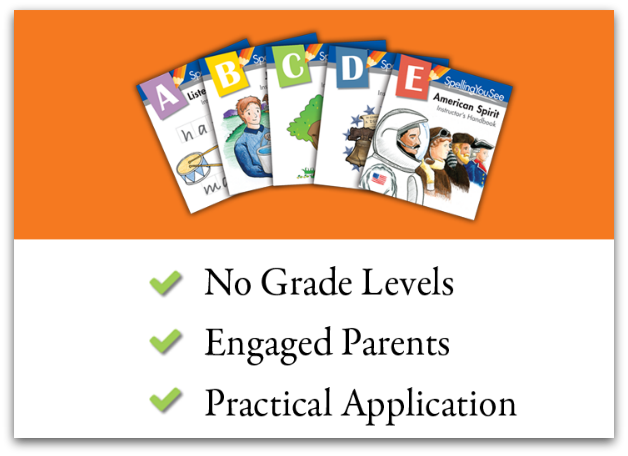 Find Spelling You See on
Facebook
and
Twitter