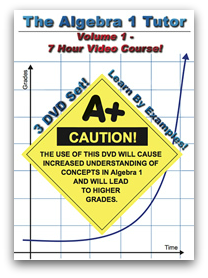 ScienceandMath.com presents:
Algebra 1: Volume 1 -
Cost: DVD - $26.99 Download - $23.99
Fractions Thru Algebra Companion Worksheet CD
Cost: - $24.99
For Grades 7 and up
ScienceandMath.com makes learning science and math, step-by-step EASY! The Bentz Test Laboratory is on our second trip through Algebra, this time with a "not-so-math-brained-student" and his mother (whom he inherited it from!)
When
Algebra 1: Volume 1 a 3 disk DVD, part of a 3 volume set
came up to review - we jumped at the chance!
The 7 hour DVD contains 10 sections designed to take Algebra concept-by-concept with step-by-step examples. This method is excellent for a struggling student, or for more extensive practice and review.
Topics covered in this volume:
Disk 1
Sect 1 - Real Numbers And Their Graphs
Sect 2 - Fractions
Sect 3 - Exponents

Disk 2
Sect 4 - Adding and Subtracting Real Numbers
Sect 5 - Multiplying and Dividing Real Numbers
Sect 6 - Algebraic Expressions

Disk 3
Sect 7 - Properties of Real Numbers
Sect 8 - Introduction to Equations
Sect 9 - Solving More Equations
Sect 10 - Simplifying Expressions to Solve Equations
The lessons vary in length - most are about 50+ minutes. Each lesson features numerous examples being worked out and carefully explained by the instructor in front of a whiteboard. "The core philosophy of this DVD course is that "Algebra Is Easy". The way that you make it easy for a student is to start off with the basics and gradually move on to the tougher material." It has the feel of a traditional math tutor, but you can rewind anytime!
My tester is part way through his current Algebra 1 study. However, we have recently discovered several "gaps" in his understanding of the basics... please tell me you understand! He began with Section 1: Real Numbers and their Graphs. It was about an hour long lesson, mostly review for him. He also completed the worksheets included on the Fractions Thru Algebra Companion Worksheet CD, which contains over 600 printable pages with detailed solutions. He continued completing one section and the worksheets per week. It was an excellent review, and filled in some of those "gaps" in his algebra foundation!
Here are some of his thoughts:
"I liked how the instructor explained the concepts - using normal language"
"The instructor provides too many examples - he could teach the concept with less repetition"
"The worksheets were easy, but the detailed answers helped me see where I went wrong if I missed any."
"I thought the DVD lesson was a little too long"
Check out some samples of the video:
What did I think? Well, I wish I would have had the convenience of having a personal Algebra Tutor. The video lessons are easily re-played when a concept needs some extra explanation. I enjoyed the relaxed, conversational tone of the instructor - not too technical. The DVD's promise to build a student's confidence through mastery - I know I learned a thing or two as well!
You can subscribe to the award winning ScienceandMath.com and get FREE science and math video lessons delivered to your email! Check them out on Facebook as well.

Other members of the Crew reviewed: Amazing Science, Volume 1 & Mastering 5th Grade Math - Volume 1 - Essentials of Fractions. You will want to check these out!
See what the rest of the Crew thought here