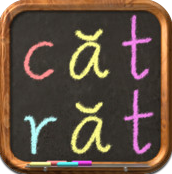 From their website:
"The app is built from the source material of the most successful education textbook of all time, McGuffey's Eclectic Primer Revised Edition, which has taught tens of millions of students the joy of reading. All 52 lessons contain the proven step-by-step material your student needs to develop to the first grade reading level – guaranteed."
Cost - $19.99
The first 10 lessons of the PC version and the
lite version
of the app are available as well, to try out and see for yourself! It is compatible with your PC, Mac, and Apple Devices.
The Bentz Test Laboratory has only recently begun to discover the joys of on-the-go App learning. How did we survive before this amazing technology?
My tester is a very excited-to-learn-to-read 5 year old. She is also has been gifted with some special learning needs - so, we are having to go slower and enjoy the journey a little more than we did with prior children. (
Phonics and Reading with McGuffey
works well with Adult learners, Dyslexic readers & ESOL students as well as students of all levels & abilities).
This app has been a wonderful addition to our reading journey. We have it available with us while we are out-and-about. I cannot tell you how much this has helped her reading! We can pull it out while waiting, work on the lessons, and we do this frequently. The convenience of having a full reading curriculum with you where ever you go is so valuable.
I was very impressed by the sheer volume of lessons. This is well worth the price tag (I know it may seem a little spendy at first, but - it is worth every penny!) This app includes:
• All 52 McGuffey Primer lessons
• All 44 letter sounds of English and their graphemes
• 60+ letter sound animations
• 400+ practice word vocabulary
• 9000+ nonsense word audio dictionary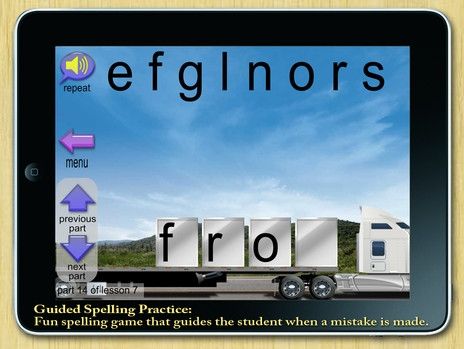 My tester was easily able to pick up and work on each lesson. The full color graphics are great, and the audio components are clear and easy to understand. It begins simply with letter and sound recognition, and advances to a First Grade reading level. The repetition is a key concept, and this app makes it fun with games like loading the letters on a truck to spell the word, when loaded your truck moves off. She loved it. It's a tried and true method, in a brand new package. (I'm sure my grandmother, who learned to read with the original books would have loved it too!)
I love the multi-sensory approach, touching the words as you read them. She had automatic feedback and audio reinforcement, such a key to unlocking her special learning style! I was amazed at how effective this app was for reinforcing and building her confidence level as well.
Up to 10 users are allowed on the app, so you can use it with more than one student.
The only down-side I can see to this app... I may never get my iPhone back!
Click to read more reviews from the Schoolhouse Review Crew