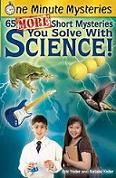 From their website:
"
The mysteries are back!
One Minute Mysteries: 65 More Short Mysteries You Solve With Science!
continues the fun. These mysteries have a clever twist—you have to be a super sleuth, tapping into your science wisdom and critical thinking skills to solve them. Each story takes just one minute to read and challenges your knowledge in a variety of science disciplines. These brainteasers keep you engaged and eager to learn more! Written by Eric Yoder and Natalie Yoder
.
Designed for kids 8-12.
"
Cost: $9.95
This book is exactly the type of reading material I like to to leave causally "lying around". I've been known to place books like this just to catch a passing Tester's interest. This one was a hit right away!
The 65 short stories each take about a minute to read, and cover topics such as Life, Earth & Space, Physical & Chemical & General Science. There is another chapter for the inevitable..."Just 5 More Minutes..." pleading, and a bonus section where you can try out One-Minute Mysteries You Solve with Math. (we are most definitely going to try that one out!)
My Testers all eagerly picked up the book and read mysteries to themselves, and to each other. I kept this book handy for reading them a short mystery - usually while they were eating lunch. I get the chance to talk (because their mouths are busy!). The mystery ends with a question that requires them to solve with scientific thinking and knowledge. The answer is given on the following page, in a way that completes the story.
I love this type of learning. It is fast, fun and HIGH interest! I have learned, they retain the science information that they learn from this story format so much better than if I had asked them to read a textbook. Jesus, himself, taught effectively by telling stories, and he's a great example to follow!
You will want to check out the other fun titles available at
Science, Naturally
- and use the code
3SPEC
to purchase any 3 books for $19.95 plus $2.95 shipping. (a $12.90 savings). These books would make a great addition to your summer road trip kit!
Click to read more reviews from the Schoolhouse Review Crew