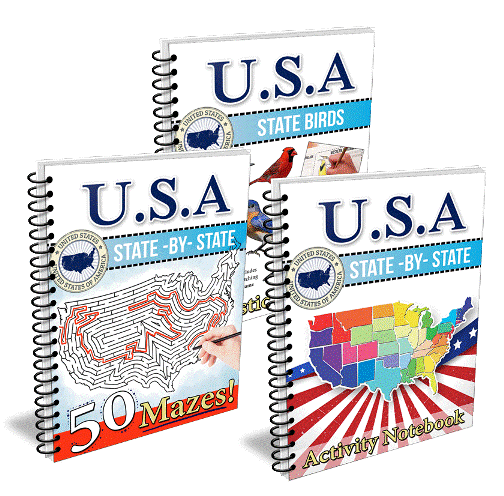 USA Activity Bundle from The Crafty Classroom
Summer is the perfect time for a road trip... even if you can't hit the road! We've been exploring America with the
USA Activity Bundle
from
The Crafty Classroom.
This is a fabulous resource for your USA history and geography studies, or just for summer learning fun. You get 3 PDF books which you can download and print. I love that we can print as many sheets as we want. Pick and choose, or do them all. We decided to print out as we learned each state, and keep all together in a binder. Great for a big family!
U.S.A. Activity Pack -
has a page for all 50 states. Activities for each state include coloring the flag, flower, bird, and location in the USA. In addition, students look up the state abbreviation, number, nickname and other fun facts and notes. A suggested accompaniment book is included, but facts can be found in the library or online.
I appreciated that each of my testers - 3 of them - 6th grade, 3rd grade and 2nd grade, could work on these independently. This is a great resource for multiple levels. They truly enjoyed looking up the information, and coloring, and the active process really helped them remember the information so much better than just reading it. My older student actually was the "teacher" and also did some additional research with the internet.
This pack also has a couple of games you can print out and create - USA Bingo & Roll Across America. My testers loved them!
U.S.A. State Bird Art Cards
features a full color picture and fact card for each of the state birds, 27 in all since some state share the same bird. The page also has a blank picture students can color themselves.
U.S.A. 50 State Mazes -
my testers loved these! This is a set of a state-shaped maze for each state. The recommended age is Prek-3, but my testers had fun with them. I think it would be fun to laminate these, and put them in our travel binder to use on road trips with dry erase markers.
This is a great way to learn your states! It's very hand's on, and the pages are well designed with plenty of room for writing (but not too much). I would highly recommend this resource.
The Crew is also reviewing some other products you should check out -
For Preschool:
Find
The Crafty Classroom on Social Media:

Hashtags: #hsreviews, #CraftyClassroom, #LearntoRead, #HomeschoolCurriculum
See what other members of the Crew thought here