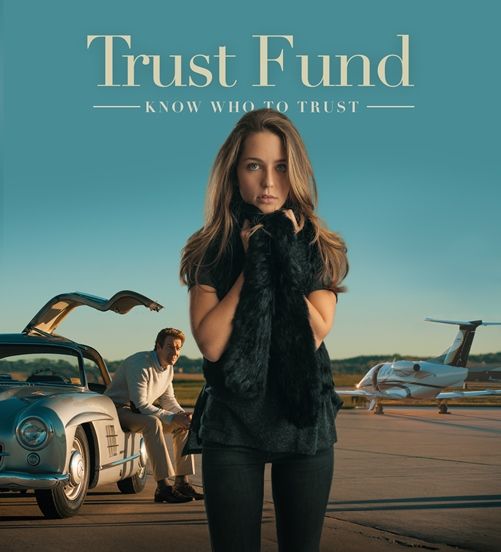 Trust Fund & Love Was Near from
Mapelle Films
I have four daughters, and one of our favorite things is to snuggle up together and watch a good "chick flick" together. But, it's tricky to find something we can all watch, that's also appropriate with a good message. We were delighted to get the chance to preview - Trust Fund - a movie with the coordinating book Love Was Near from Mapelle Films.
A exciting bonus, is that the producer - Isaac Alongi, was homeschooled! It's wonderful to see the fruits of homeschooling showing in adults. He credits the freedom to explore his passions while being homeschooled one of his favorite parts. I hope ALL our children will thrive from their years spent homeschooling like he has.
This film is a contemporary telling of the Prodigal Son story from the Bible. Although the film never mentions God directly, it uses the story to illustrate the point, much like Jesus did. The main character is Reese Donahue- played by Jessica Rothe. She is the younger daughter of the story. She is a free-thinking, expressive young writer who is ready to enjoy life.
Without giving away too much of the plot, she leaves home and makes poor choices along the way. Her father welcomes her back home, throws the party, and the older sister objects (I'm not giving away the plot...it's already in the Bible!)
The film does offer a
Study Guide
, which you can download. It offers Scripture and some great questions for encouraging discussion with your children, after watching the movie.
We also got the chance to look at Love Was Near, 225 page, softcover book that gives more insight to the story of the film. It's like a peek into Reese's thoughts and journal, with places for the reader to journal along. My 14 year old read it. She liked seeing the pictures from the movie included. Many of the questions pertained to experiences she hasn't had yet...like "Have you been in a relationship, or are you thinking of someone now, that you aren't sure you're seeing or thinking about clearly?" A very good family discussion question... "If you inherited 5 million dollars, what would you do?" The book is a great way to intentionally discuss the themes of the movie.
Which brings me to our opinion of the movie. We enjoyed our time together watching it, but it left us with lots of questions. There are numerous sub-plots and we got lost every now and then (could be us!). My testers are 13 and 14, on the young side, and found it hard to relate to the main character. She's extremely rich - and her world is so very different. She has an inappropriate relationship with the Italian boyfriend (never shown explicitly on screen, but suggested heavily), but comes back to get the American boyfriend in the end. We never see the "why" behind what the father does. We wish it had explained how his faith motivated him to forgiveness.
All in all - it was an entertaining movie. I would recommend it for OLDER teens/young adults. Check out the trailer here. I fully support more movies with a Christian message, produced by homeschoolers!
Find
Mapelle Films on
Social Media:
Facebook:
https://www.facebook.com/TrustFundMovie/
Tag: @TrustFundMovie
Twitter:
https://twitter.com/TrustFundMovie
Tag: @TrustFundMovie
Pinterest:
https://www.pinterest.com/trustfundmovie/pins/
Tag: @trustfundmovie
Instagram:
https://www.instagram.com/trustfundmovie/
Tag: @trustfundmovie
Hashtags: #hsreviews , #trustfundmovie. #family. #movienight, #moviereview, #familynight, #familyfun