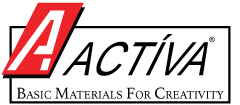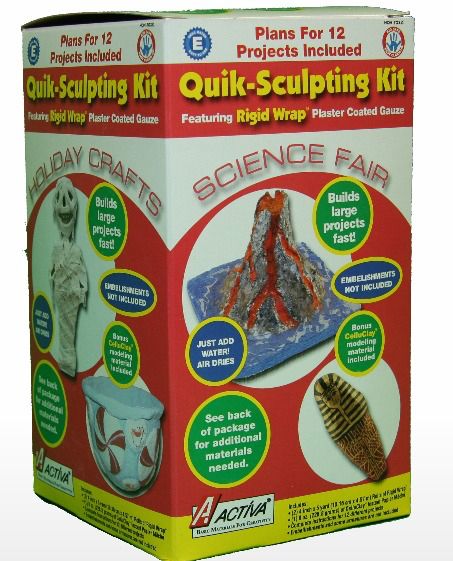 Rigid Wrap and CelluClay Quik-Sculpting Kit from ACTÍVA Products
Bentz Test Laboratory had a blast with this - Rigid Wrap and CelluClay Quik-Sculpting Kit from ACTÍVA Products!

Our kit contained:
Two rolls of Rigid Wrap plaster cloth
8 ounces of CelluClay
Instructions for 12 craft projects
I just need to tell you that paper mache and salt dough bring back memories of our love/hate relationship with Valentine Boxes... BUT, this kit gave us nothing but LOVE!
This is the product you need if you want to be "that" fun, hand's-on mom, but the idea of making paper mache makes you hide. This stuff is so easy to use, and you will love the finished product!
My testers adore the chance to create, anytime, anywhere. What holds them back, is usually me. I have good intentions...but, it can require more time and ingredients than I have on hand. This kit only required adding water, and they were creating! Does it get any easier?
Rigid Wrap is a roll of pre-coated plaster cloth (think like how casts used to be in the olden days...). You simply cut the length you want, soak it in warm water and apply to your desired surface. It sets up quickly, and dries hard. It's way better than the old glue, flour and paste days!
CelluClay allows you to add water to create an instant clay. It's a dry powdery substance, that feels like soft sawdust. You can control the amount of water to change the consistency. For fun additions - you can add color or sand or glitter... This stuff was so easy!! You can decide how much to make, and if you have extra left over, you can store it in the ziptop bag. We used a plastic bag to mix it with our fingers, a great sensory activity, and there was NO mess left to clean up. I even read online, you can heat in the oven or microwave to sped up drying.
The Free eBook was a great inspiration. My testers loved looking at the ideas to get their creative juices flowing. They choose a butterfly (with Rigid Wrap), a dinosaur (with CelluClay) and of course, the Egyptian Sarcophagus.
My testers had a great time creating, the kit made each of the projects, and we had plenty left for our next project - It's a must have for less than $12!
Rigid Wrap works great around a simple form - we used cardboard and newspaper.
Just dip the strip in warm water, and wrap around your form or shape. It sets up quickly.
CelluClay was just as easy to use. My testers love the sensory aspect of both of these products. You just have to get your hands into it!
We left the out to dry - the cardboard form dried slower than the Rigid Wrap coating. But, everything was ready to paint in just a few hours.
Finally step was to paint (another favorite tester activity) We were very impressed!
This is truly a great item to have in your school supply stash - you can use it for so many projects. It's great for history models, relief maps, science experiments (the volcano is next on our list!) and more. Best of all, it's easy to use - and not too messy :-)
Find
ACTÍVA Products on Social Media:

Hashtags: #hsreviews, #activaproject
See what other members of the Crew thought here