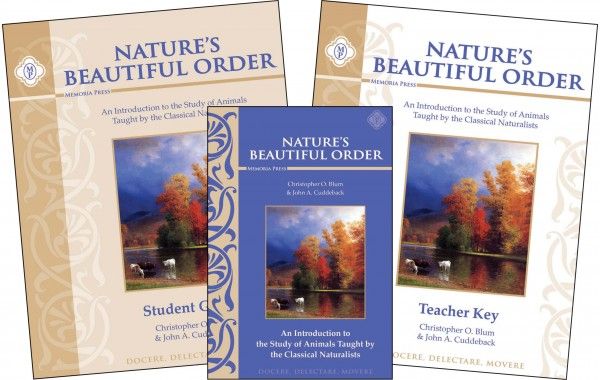 Memoria Press
publishes a variety of classical education products - and the new science titles are a wonderful complement to their selection.
Nature's Beautiful Order is designed for grades 6-9. This would also make an excellent companion for biology students, or a home library resource. Our set included a 187 page Student Textbook, a 51 page consumable Student Guide, and a 51 page Teacher Key.
The Textbook has 18 Lessons covering animals from the sea, land and air. "Man, the Steward" is the final chapter. The book is written to serious students - you won't find any pictures or twaddle. It's goal is to "provide an introduction to the study of animals for today's youth that will nourish in them a love for nature's beautiful order." It's authors are both students of Aristotle, and classical naturalists..
The lesson topics are:
The Cat
The Lobster
The Cuttlefish
The Sea Urchin
The Bee
The Trout
The Frog
The Turtle
The Canada Goose
The Miracle of Flight
Day's Herald Bird
Birds at Home
The Groundhog
The White-Tailed Deer
The Carnivora
Farm Friends
Man the Upright Animal
Man the Steward
The Student Guide has 2-3 pages of comprehension style questions for each lesson, after reading from the text. These are excellent reading comprehension exercises. We used them orally together, as a narration exercise instead of having her write out the answers. Older students would benefit from writing as well.
The Teacher Key contains answers to all of the questions in the Student Guide. Helpful for busy mom's that haven't got the time to read first!
My tester is a 6th grader. She is an avid reader, and an avid animal lover. I gave her the book, and turned her loose! She was a bit intimidated, but only at first. The vocabulary is at times very challenging, but each lesson is filled with amazing facts that caught and kept her reading.
Her favorite lesson was on the cat. Even though the cat is a fairly common animal, and covered in the "What is an animal?" lesson, we both learned new facts about our favorite animal. Facts from history are included, as well as, science related information. Did you know cats were valued so highly to have heavy fines imposed upon their killers in Europe?
I appreciate that this curriculum is filled with wonder at what God has created. It's completely written from a Biblical worldview that supports science as God's handiwork. It's also rigorous enough to challenge our students to use their minds as well. I do think that pictures or drawings would enhance a book on animals. For that reason, I would recommend this book for older students.
Memoria Press does not disappoint. We plan to keep this handy as a supplement to high school biology.
Check out some other great products from Memoria Press that the Crew has been enjoying:
Find
Memoria Press on
Social Media Links:
Facebook:
https://www.facebook.com/memoriapress/
Tag: @memoriapress
Twitter:
https://twitter.com/MemoriaPress
Tag: @MemoriaPress
Pinterest:
https://www.pinterest.com/memoriapress/
Tag: @memoriapress
Instagram:
https://www.instagram.com/memoriapress/
Tag: @memoriapress
Google+:
https://plus.google.com/u/0/104379865092561103366
YouTube:
https://www.youtube.com/user/memoriapress/
LinkedIn -
https://www.linkedin.com/company/memoria-press?trk=nav_account_sub_nav_company_admin
Hashtags:
#hsreviews, #memoriapress, #classicalchristianeducation, #classicalhomeschooling, #classicalchristianhomeschooling