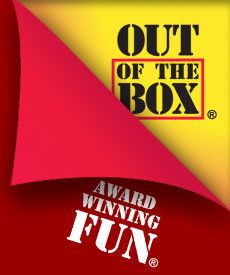 Snake Oil from
Out of the Box Games
Ages 10 and up, 3-10 players - $19.99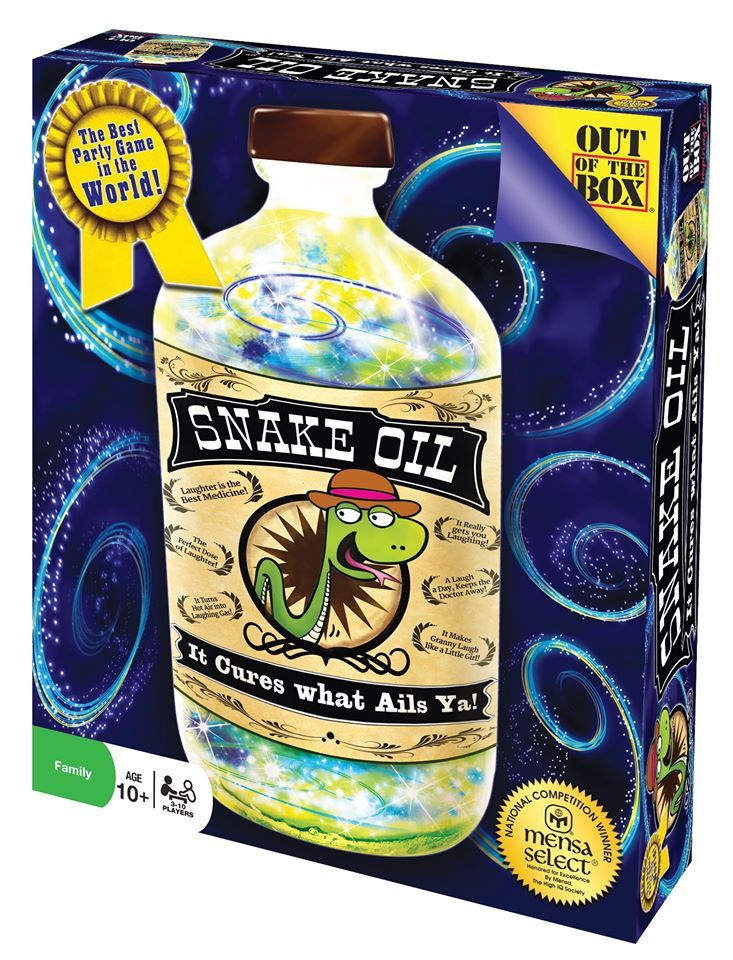 Do you need a good belly laugh? You know the kind that starts way down low and literally spills out of you? Then, you really need a family game night! Snake Oil from Out of the Box Games had the Bentz Test Laboratory literally belly laughing and snorting - it was that much fun!
Out of the Box Games is an award winning company, and you will be impressed with the quality of their games - from strategy to learning games, they offer something for everyone.
Snake Oil is super easy to learn, so the entire tribe can play. You can learn how to play in just a few minutes. Plus, it only takes about 20-30 minutes to complete a game, so it doesn't have to be an all night investment.
The rules are simple...just be the best "Snake Oil" salesman. (a.k.a. - used-car salesman, ppolitician or anyone who likes to stretch the truth a bit...) You know, get your customer to buy something with outrageous promises. Combine your cards to create your product to "sell" the to the customer, the one with the most customer cards wins.
Oh boy, in my family... we are blessed with more the the average amount of slick marketers!!
One player is designated as the customer. There are 28 different customer cards like: "beach bum", "teacher", "diva" and "pirate".

The rest of the players receive 6 word cards and must combine any two cards in their hand to create an product to sell to the customer. There are 336 word cards to choose from making combinations. Get ready to laugh - you will not believe the combinations they can come up with: "Flying Bathtub", "Fashion Beard" & "Nose Costume"...to name a few.
Once the products have been created - everyone gets to sell their best "pitch" to the customer in the 30 second time limit. This is a riot in our crew! Seriously...where did they all get this from?! I loved listening in to them play this together, after all - who doesn't need a "Slime toilet" from the 8 year old, all boy, snake oil salesman? They all enjoyed playing, youngest to oldest, and everyone in between. Not an easy task, in our larger than average family.
Once all of the "pitches" have been pitched, the customer picks their favorite and awards their customer card to the best salesman. The person with the most customer cards in the end, is the winner.
You can use this game in other ways too. In a large group, you can let the snake oil salesmen pitch to an "audience", who can vote by applause.
You can create a tournament with 12-24 people with just this game. Play on teams and in rounds until a winning team wins the championship.
This would make a fabulous "team building" game for adults too. My husband plans to use it with his team at work (he's a sales manager, so it's perfect for his employees!)
Some things I really liked about this game:
It makes them think on their feet - the 30 second limit keeps it moving!
It teaches them the art of persuasion... a smooth talker gets more customer cards!
It forces some "audience" time for the salesman - great public speaking practice!
It's just plain, old fashioned, non-electronic, family fun!
Adults and children all love this game!
This has become THE favorite game at our house. Invite the neighbors to join you...if you dare!
Find Out of the Box Games on Social Media
Facebook:
https://www.facebook.com/OutoftheBoxGames
Twitter:
https://twitter.com/OTBgames
YouTube:
http://www.youtube.com/watch?v=lYAQiV5S9ZQ&feature=c4-overview&list=UUTEAg1uDVwq0LNxFAwM7N5Q