Fascinating Biology

from
Fascinating Education
$79 per course
$175 for access to all three courses (Fascinating Biology - Fascinating Chemistry - Fascinating Physics)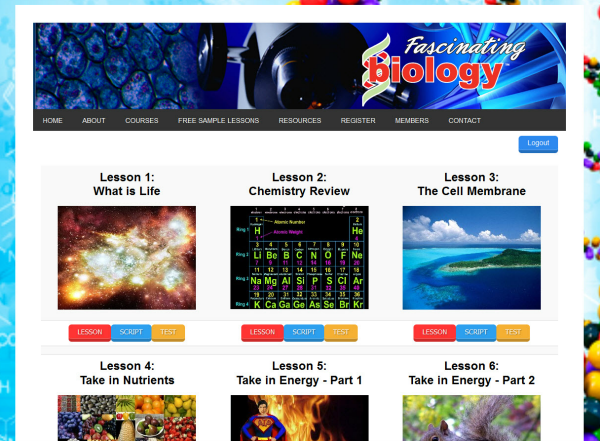 Fascinating Biology

from
Fascinating Education
is an online science program for your upper middle school and high school students. This program takes a "right-brain" approach - teaching to audio & visual learners with engaging visuals. It is a great alternative to the traditional text book.
Dr. Margulies, recommends starting with Chemistry, and then doing Biology and Physics, because of the large amount of Chemistry involved in Biology. However, you can choose which works best for your scope and sequence. Fascinating Education states this program can be used as a 30 hour high school science credit.
The Bentz Test Laboratory tested this product with my 10th grade biology student. The Biology program consists of 19 lessons, each of which has an approximately 30-45 minute video lesson followed by a test. Each lesson has a printable script you can use, very helpful for your visual learners. The slides are very colorful and engaging and a large volume of information is presented.
The concepts covered:
What is Life
Chemistry Review
Cell Membrane
Taking in Nutrients
Taking in Energy
Grow
Reproduce
Homeostasis
Adapt
Prokaryotes, Protists, Animals, and Fungi
Plants,
My tester decided to work from Lesson 1 and move sequentially. But, you could choose to skip around and do only the lessons you wanted, if that was more friendly to coordinating with your current curriculum. We used this program as a supplement, rather than a full science course. Mastery of the information is their goal - they do recommend repeating lessons until a student can score at least an 80% on the test. The tests are printable, and scores are not keep automatically.
My tester really did not enjoy this program. I thought it was great! Just goes to show, I guess I'm a bit more mature ;-) My tester dutifully watched each lesson. The lessons are really more of a slide -type nature, rather than a video. The information is covered well - but, there is so much information to absorb in a short sitting that he found it very difficult to do well on the test. After several lessons, he was frustrated and not enjoying this experience.
Please keep in mind, this is just his experience. I found plenty to appreciate in this well-designed program! Just the images, diagrams and explanations alone make a great addition to your upper level science textbooks. The program does not include labs, you will need to add the hands-on experiences to truly experience science.
Another important note - this program does not teach from a creationist worldview. Evolution will be discussed. The author does not wish to take a side in this debate, but to present information in a clear and concise way, and let you be the judge.
In my opinion, by the time our students are ready for upper level science, we have felt they are also ready to confront and refute evolutionary theory. This program will give you a chance to start having those important conversations with your teens BEFORE you send them off to college.
Check out their FREE samples online to see what you think.

See what other members of the Crew thought here