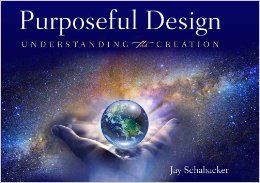 Purposeful Design: Understanding the Creation from
Purposeful Design
Good for all ages.
$18.95 (25% off the retail price of $24.95)
Purposeful Design: Understanding the Creation from Purposeful Design is authored by Jay Schabacker, who is a former aerospace scientist and businessman. He has filled this book full of examples of God's goodness and purposeful design of our universe.
"Purposeful" takes the idea of "intelligent design" one step further. "Purposeful" means that we have a Creator that created everything in our universe - on PURPOSE, just for us! What a powerful message to share with your family, and others - while bringing them closer to God.
The Bentz Test Laboratory loved this book. The pictures alone are breathtaking. This is a high quality, 90+ page, hard-cover, "coffee table" style book. It is organized into chapters that follow the seven Days of Creation:
Chapter 1 – The First Day: Creation of the Heavens and the Earth, the Foundation of it All
Chapter 2 – The Second Day: Creation of the Atmosphere and Water
Chapter 3 – The Third Day: Creation of the Dry Land and Vegetation
Chapter 4 – The Fourth Day: Creation of the Sun, Moon, and Stars
Chapter 5 - The Fifth Day: Creation of the Birds and Fish
Chapter 6 - Creation Day Six: Creation of Land Creatures and Humans
Chapter 7 – The Seventh Day
Since the Bentz Test Laboratory is studying our elementary science following the Days of Creation, this was the perfect supplement to our studies! Each day begins with a scripture verse, printed on a magnificent backdrop of God's creation. Throughout the chapters there are illustrations, photographs, charts, and diagrams with very clear, easy to read descriptions and explanations. This was a great book for us to read together, or for them to just pick up and browse through.
Purposeful Design: Understanding the Creation
informed and intriqued us, I explored it with all ages of testers - age 5 to um...forty something.
Did you know that our world is 71% water, and has it's very own water filtration system - purposefully designed into it?
How about the 23 hours, 56 minutes and 4 seconds that the earth takes to rotate on it's 23.5 degree tilted axis... purposefully designed for our needs?
How about how the very presence of our tides, related to our distance from our amazing, purposefully designed moon, that allows the Leatherback Turtle just the time at high tide to lay her eggs just above the reach of the waves?
In addition to this beautifully done book, Jay Schabacker offers a FREE BONUS Young Explorer's Club Curriculum to accompany it. (Click here to download the curriculum.)
The Young Explorer's Club curriculum set includes a downloadable PDF file of a 30 pg - Kid's Workbook, a 40 pg- Teacher's Set, and a Certificate of Completion. Using scripture and questions & answers - available for different comprehension levels, this curriculum helps take the book and turn it into a full learning experience.
This book will inspire you to want to know more. That search for more, will lead you straight to our Purposeful Creator! Well done - Purposeful Design: Understanding the Creation .
"Great is the Lord, and most worthy of praise" - Psalm 48:1
Look for Purposeful Design on social media:
Blog: www.Jayschabacker.blogspot.com
Facebook: https://www.facebook.com/JaySchabackerAuthor
Twitter: www.Twitter.com/Jayschabacker (@Jayschabacker)
LinkedIn: Jayschab
See what other member of the Crew thought here