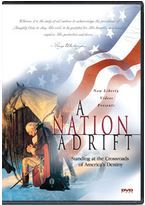 A Nation Adrift from New Liberty Videos
93 minutes - DVD
$19.95
The Bentz Test Laboratory is diving deep into American History together this year. When the opportunity for
A Nation Adrift from New Liberty Videos
became available, we were excited to be included. After all, who doesn't love a good history documentary! It is described:
"
From Christopher Columbus to the founding of America, God has guided the founders of our country. This DVD explores where we began and where we are today as a nation
."
This 93 min. DVD is a timeline of America's history. In fact, it goes all the way back to Jerusalem. As the narrator highlights important people and events, visual clips of videos, paintings and illustrations are shown on screen. The narrator uses voices, inflections, and light music as a background. Overall, it is not fast paced, or action packed. But, you will get the opportunity to see glimpses of America's finest moments.
It's not the type of documentary that jumps up and grabs your attention... at first. I hate to admit it - but several of my testers and I nodded off a couple of times in the early portions. It could be that much of the early information was part of what we had been studying and was a repetition for us. I need to warn you - this is NOT a documentary that you should gather ALL your children around to watch with you!
As we got into the Revolutionary War - terms like "sodomy" started being introduced. In fact, when one of my younger testers woke me up to ask what that word meant, and why that soldier was "drummed out of camp", I decided I better watch the rest of this with only my older children only.
I don't want to leave the impression that we did not enjoy this DVD. Far from that, for the appropriate age audiences, this is a very well-done look at where America started from and how far we have drifted away from the founder's original design. In fact, I think that this should be included in most HIGH SCHOOL American History courses.
By the end of the overview, you can't help but mourn how far from God's plan our society has drifted. You will be disturbed by this DVD - late term abortion is explained in detail, homosexual affection (men kissing each other) is displayed on screen, Supreme court justices with anti-christian beliefs are quoted, ACLU beliefs are outlined - including support of satanists, prostitution, and 12 year old consensual sex age reductions. The sorry picture of American society today is painted in detail.
Thankfully, the producer doesn't leave us there... Encouraging words are spoken to the audience. We are encouraged to stand up and accept the personal responsibility to exercise the voice our Founding Fathers granted us. America is not without hope! God is still sovereign, and America can find her way back to her beginnings. Our next generation still has a voice and the power to be heard.
My 6th grade tester was completely disturbed, my high school testers were discouraged, and all of us were left speechless (momentarily...if you know us, it must have been a moving message!) After a great discussion, we agreed that this DVD left us with a challenge.
Overall, I found the DVD a bit slow at times, but was inspired by it's message. Make sure you preview this one first to make sure it's right for your family.
Other titles reviewed:
Anthem for a Nation, The Forbidden Book, Mysteries of the Dead Sea Scrolls, Teaching Origins Objectively, Warriors of Honor.