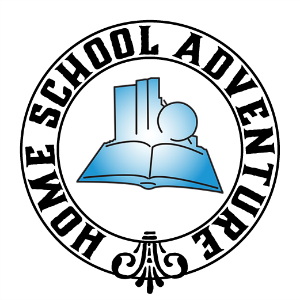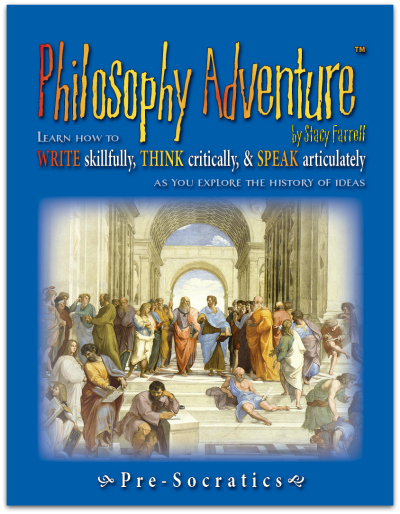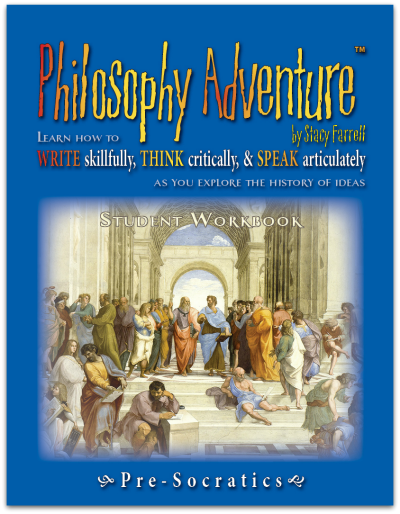 Philosophy Adventure by Home School Adventure Co.
Do you want to inspire your students to write, think and speak effectively?
Philosophy Adventure
will have them well on their way, by discovering the world of ideas!
Cost: $39.95 for the Digital Download (physical products also available)
It includes PDF files of the Reader, Student Workbook, & Teacher's Resource
Philosophy Adventure by Home School Adventure Co.
has become one of my all time favorite resources!
This 8 unit study dives deep into the world of ideas by studying some of the greatest philosophers and what they thought, taught and believed.
Vocabulary, memory cards, a "Write Think Speak" journal, notebooking pages, mapping assignments, timelines, quizzes and tests, writing checklists and freewriting exercises are all included in this very well-rounded curriculum. Additionally, other members of the TOS Crew were reviewing additional resources from Home School Adventure Co. designed to complement the
Philosophy Adventure
-
Mere Christianity Journal, Philippians in 28 Weeks & The Wise Woman with Literary Analysis Journal Questions.
The Bentz Test Laboratory volunteered our high school and middle school testers to give this a try. Eight key philosophers are studied: Thales, Pythagoras, Xenophanes, Heraclitus, Parmenides, Empedocles, Protagoras, & Democritus. Don't let these names scare you! The author - Stacey Farrel's goal is to take this subject matter - philosophy, and make it engaging, easy to use and empowering.
Each lesson features several main components. First, the Philosopher's story - quotes, history, ideas and impact they had. The Write, Think, Speak sections are included to complement and give hands on assignments for the concepts presented. Geographical information is included. The School of Thought of the philosopher is discussed along with a Contrast section. The contrast section was their favorite part - it contained source material - written by the philosopher, and how that information aligns with a biblical worldview.
My testers worked through this independently (good for moms who don't care to tackle this subject). However, this material is very thought-provoking and you'll find yourself wanting to have those meaningful conversations with them as they encounter the world of ideas.
The Reader is in full color (however, we printed it black and white to save some money). The nice part of a digital download package - you can have read it on mobile devices too. The Reader is very engaging, easy to read, and filled with information. Do not rush through this - it's really great stuff, especially for our high school students!
Each student needs their own Student Workbook. They create their very own notebook of philosophy. Mapping and critical thinking exercises are included. My favorite sections were the creative writing exercises. Set the timer, and see where their own creativity goes, guided but not scripted. Journaling pages are included for each lesson - tackling key questions like "Where did I come from, and why am I here?" and "Can you identify a prize for which you would be willing to suffer?" These are the thought-provoking questions that will generate unbelievable discussions with your teens. The seven reproducible writing checklists are a very valuable tool - covering every step from pre-writing to evaluation. A self-created glossary of terms and definitions is an engaging way to work with the advanced vocabulary they are mastering in this program.
We choose to add this program as a supplement to what we have been already working on in history. Philosophy Adventure is easily adaptable to the way you want to use it - as an intensive 8 week study, a 16 week semester, or even just one lesson a month. Credit and time calculations are included in the Teacher's Guide for how to allot high school credit.
This is one of the best resources for your middle and high school level students that I have ever seen. Don't miss this one!
Find
Home School Adventure Co
. on
Facebook
,
Twitter
,
Pinterest
,
Google+
, and
Instragram
SPECIAL DISCOUNT - JUST FOR YOU!
Use Code:
CREW-10
(Expires: May 15) for 10% off any download product!