e-Science Premium Membership by Supercharged Science
The program includes:

Cool science projects you can start doing right now with easy-to-find materials
Step-by-step videos that show your kids exactly what to do.
Perfect if you don't have time to teach science, or science isn't your thing!
A 17-page student guidebook PDF that includes explanations and questions for each lesson.
Science Newsletter with lots of great science activities
Instant online access to the videos and guidebook
Recommended for all K-12 levels!
Cost: $57/month (full access) or $37/month for (K-8 access only)
Want to see for yourself - Just for the TOS readers, you can
Try Supercharged Science for a month for just $1
Check out
FREE SAMPLE
experiments here!
How would you like a REAL rocket scientist to come and teach science to your children, in your home? I'm excited to introduce you to Aurora Lipper of
Supercharged Science
(I love her red hair!! - you need to see a family picture to understand...she's one of us!).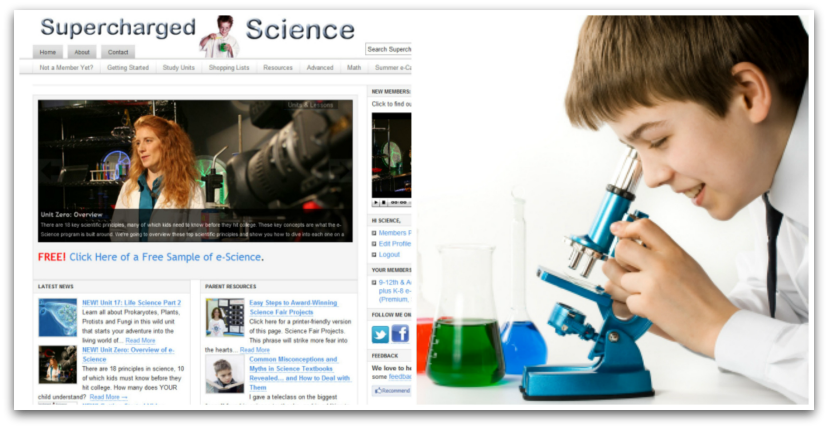 While I enjoy science, and experiments - let's just say they turn out like my cooking... sometimes they work, sometimes - not so much! The Bentz Test Laboratory was excited to preview the
e-Science Premium Membership
from Supercharged Science.
This 20 unit, online curriculum for K-12 features video instruction and step-by-step videos of each experiment. (wish I could find something like this to help me with my cooking...). Text readings, and printable worksheet activities and even "shopping lists" are included in each lesson.
Since all my children had access to the program - a GREAT value for larger families with multiple grade levels, I assigned them to work in "buddy pairs". Two by two, they were able to explore the many topics, and choose what they wanted to investigate together further. A handy grade level organizer can help you narrow down the topics for specific grades:
The online program is very easy to navigate. My children, even the younger ages, had no problem. There is no mandatory starting spot, and you can skip around the units as you feel led.
Every child loved this program! That in itself, should tell you about the variety and depth. From a 10th grader, deep into Chemistry - to a Kindergartener - all of them were enthralled.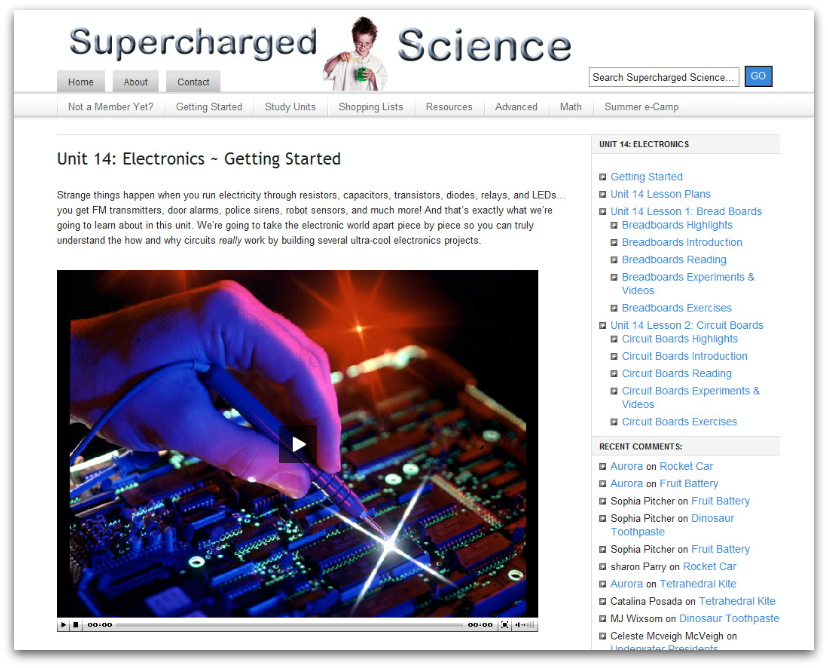 This is science taught the way it should be! Aurora is a passionate teacher, and her passion for the subject lights a fire in your students. One mom-to-mom tip - when someone runs in and excitedly exclaims that they need eggs, vinegar, baking soda, etc. Don't worry... it probably won't actually blow up anything. Or, you may find that your swingset has acquired a whole new use - a testing laboratory for Newton's Laws. Just smile, nod your head, and realize that they are well on the way to becoming rocket scientists themselves!
We used Supercharged Science as an addition to our regular textbook style science curriculum. It offered the zing and zap that was missing, and made science a delight driven subject again. Thank you Aurora! This program could easily stand alone as full curriculum - especially if you have hands-on learners.