Online Math Membership (K-12) &
Online Language Arts Membership
(2nd - 4th)
From their website:
"
Practice makes perfect, and IXL makes math and language arts practice fun! IXL motivates students through interactive games and exercises while keeping teachers and parents informed and involved. With more than 2,500 skills spanning pre-school through high school, IXL offers a dynamic and enjoyable environment suitable for any learning style. Students who use IXL are succeeding like never before."
COST: IXL - $9.95 for math only, $9.95 for language arts only, or $15.95 a month for both.
If you purchase a yearly subscription it is $79.00 for either math or language arts, and $129.00 a year for both subjects. (Each additional child is only $2 per month, or $20 per year)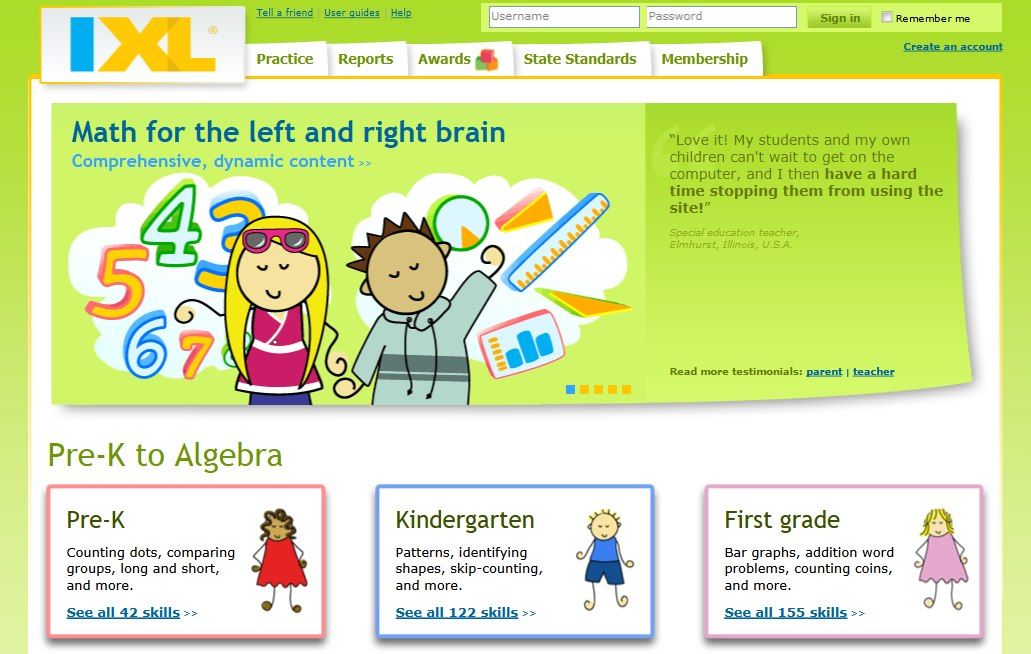 The Bentz Test Laboratory was excited to get a fresh new look at
IXL
-
Online Math Membership
(K-12).
My five testers were grades K-5th grade. IXL arrived at a great time, we really needed some extra practice in the dread subject... math!
IXL is a very comprehensive drill and review program. It's not full curriculum, it doesn't actually teach the concepts. However, I think it is one of the most appealing, user friendly online programs we have used.
After setting up a family account, I was able to create child accounts, complete with their own avatar :-) for each of my testers. That was painless... and they were ready to begin! I hate complicated parent account set-ups, IXL was so easy to get started.
It's been a tough time around the Bentz Test Labortory - I recently finished radiation treatment, and a 2 week mission trip to India. So, needless to say, math practice has be automated, or it may not get done.
My testers were able to easily log in independently and choose from skills for their appropriate grade level. In addition, they could choose the specific topics they wanted to work on - from simple counting all the way to geometry! They could choose whatever they wanted, and jump around within their level. As they complete each topic, they earn awards and medals. This was surprisingly effective. Seeing their percentage correct advance until they reached their goal, kept them motivated.
It was an easy way to incorporate math review into their day. They all enjoyed the computer time, and found the program enjoyable. Not too bad for math review, wouldn't you say?
Weekly progress reports were emailed to me, so I could see exactly what they had been working on, and what they had mastered. I think this is a useful tool to add to your math toolbox. However, with multiple children it can be a bit pricy. I found it worth the cost during this season of our life - math practice was getting accomplished on a daily basis!
Another fun addition (
PUN intended!
) is the
FREE IXL App for your iPad.
You don't want to miss getting to take
IXL
on the go.
We did not spend any time with the IXL - Language Arts section, but - you may want to check it out for yourself.
Online Language Arts Membership
(2nd - 4th).

Click to read more reviews from the Schoolhouse Review Crew