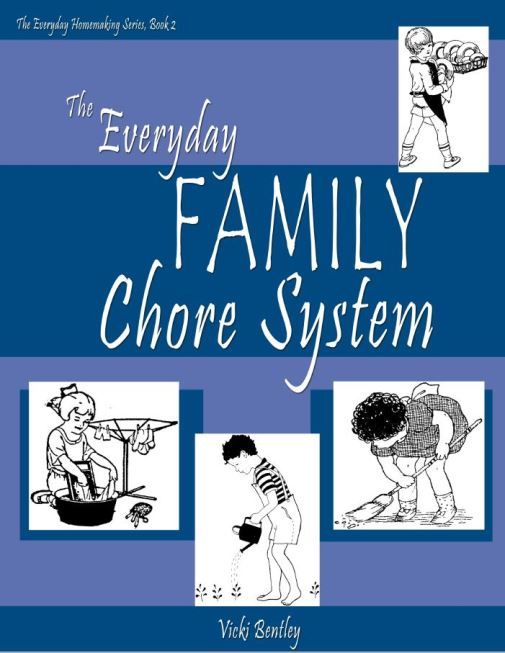 The Everyday Family Chore System from Everyday Homemaking
I've heard a great quote somewhere..."
Nothing is more hopeful than an mom with a new chore chart
?" I have been inspired to update our chore system by the
The Everyday Family Chore System
from
Everyday Homemaking.
This PDF download from author Vicki Bentley is 88 pages packed with inspiration and practical tips to start training your children in the art of managing a home. She explains how developing this chore system helped her family. I couldn't agree more - we reviewed this back in 2012. Little did we know then, I would struggle with my health (I'm celebrating being cancer free for 4 years!) Having trained my children in routines and responsibilities, many taken from this system, my children kept our home running smoothly - even when I wasn't able to. This has been such a gift to our family!
The book is broken into several parts -
Part 1: Laying the foundation
- This is the philosophy part. If you need motivation as to the "why" of kids and chores - don't skip this part. You will be inspired to start seeing your kids as you want them to be in the future. It all comes down to simple principles like -
Have realistic and age-appropriate expectations. Establish rules or standards. Have a working knowledge of family discipline. Tie strings to their hearts.
Part 2: Implementing the Plan
- Here's where the experience of the author shows through (a fellow mom of eight and foster mom to fifty!). I really enjoyed the Life Skill checklists - organized by age. She offers numerous variations of the basic plan - you customize to what will work best in your family. I loved her ideas about using the wooden clothespins with chores attached - "Kid on a mission!" Now that my children are older, we can use a simpler version of a chart posted where everyone can see it.
Part 3: The Actual Chore System
- The nuts and bolts so to speak. Printable chore cards, includingh blank ones you can write in chores specific to your family. Rereading this has inspired me to add more variety to our chores... not just the basics like making your bed and cleaning the bathroom. Her chore cards are filled with great ideas beyond basics like washing the car, assistant cook, and cleaning out the toaster (we need this!) I've printed the chore cards and put them in a cup for our counter. These are a great training tool! For variety, I let them pick one to do each day. If I need a handy behavior modification (you know what I mean...kids that are arguing with each other) they can pick one from the jar and spend some time together blessing the family :-) A "job box" is a place to put your occasional chores to be done.
My favorite are- the "How-to-do-it Cards". With these printable cards you can make sure they understand what needs to be completed in order to complete the chore. No more "misunderstandings" of their mission!
I love this system! It has been a blessing to our family. It's simple and uncluttered, you don't need to create elaborate systems to manage chores - but, you can train your children to manage your home without you. Isn't that our goal?
Other members of the Crew took a look at another helpful tool -
Everyday Cooking
, you should too! You can get 10% off this book or her Everyday Cooking book through September 5, 2017. Click
here
to access her store, then put in discount code TOS10books at the checkout.
Find Everyday Homemaking on Facebook

@everydayhomemaking

Hashtags: #hsreviews , #homemaking, #chores
See what other members of the Crew thought here