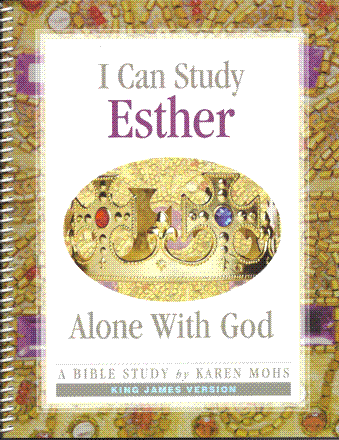 It's always exciting when your child is ready to study the Bible on their own! We have been using I Can Study Esther Alone With God Bible Study - KJV & NIV (13 week study) from Greek 'n' Stuff.
This 13 week study is available in either KJV or NIV. We used the NIV version. It is designed for your middle to upper elementary students to be able to work independently. My tester is named ESTHER - she was delighted to get to study the book in the Bible she was named for! Since she's new to independent Bible study - her big sister helped out.
The study is a spiral bound, 39 page, consumable book with 13 lessons. Lessons are designed to be covered over a week with short assignments for each day. Each lesson contains a scripture passage to read, a prayer prompt, memory verse and several short answer comprehension style questions. In addition, sidebars on the pages contain additional interesting information or facts.
At the end of each lesson is a "Think and Pray About It" section with great discussion style questions to get your student applying what they have learned. Check out a sample page.
Overall, this was a very good way to begin independent Bible study for my sweet Esther. The study wasn't too complicated - but, it had plenty of interesting insights for her. I love that there was NO teacher prep required, and it's very affordable as well.
Our memory verse is one I always pray for her... for such a time as this.


Other members of the Crew reviewed several items you will want to check out -
Find
Greek 'n' Stuff
on
Social Media::
Facebook:
https://www.facebook.com/GreeknStuff/
https://www.facebook.com/groups/heyandrewteachmesomegreek/
Twitter:
https://twitter.com/GreeknStuff
Tag: @GreeknStuff
Pinterest:
https://www.pinterest.com/kuriakos/greek-n-stuff/
Instagram:
https://www.instagram.com/karenmohs/
Tag: @karenmohs
Hashtags: #hsreviews , #greek, #greeknstuff