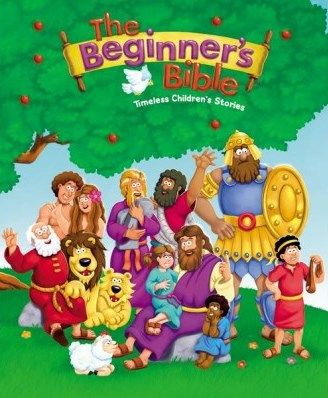 The Beginner's Bible from Zonderkidz
This is a Bentz Test Laboratory family favorite! The freshly updated classic - The Beginner's Bible from Zonderkidz.
This Children's Bible, designed for ages 4-8, was first published in 1989 and has sold over 25 million copies! This was our first Bible for all my children...we wore the cover off - literally.
Now, 8 testers later (the oldest "original model" is now in college...) my youngest tester is getting a bright and beautiful copy of her own Beginner's Bible!
This Bible features stories from the Old and New Testament that you and your child can read together. It is also perfect for your new readers to practice their skills. 48 stories from the Old Testament and 46 stories from the New Testament give your child a big picture of God's great story. It's one of the first independent books my kids get to read on their own, and I love hearing them read the Bible to me.
The illustrations are vibrant! The pages are printed on high quality, glossy paper. This new edition is designed to last. Check out some of these pictures!
A dictionary is included in the back, and is a great way to start your early learner on looking up words.
But, that's not all! You can find these goodies to go with your Beginner's Bible online -

Resources for Children like videos and games. Plus, coloring pages, dot to dots, word puzzles, search and find, mazes and drawing.

They also a huge variety of resources for us Parents & Teachers to bring the bible to life like sticker sheets, printable place mats, trivia cards, reading suggestions and even snack suggestions to go with your story!

And now, you can take it on the go too with their FREE App.



Sometimes things do get better with age :-) The Beginner's Bible is one treasure you will want to have.



This is a great little video to tell you about their 25 years... Thanks ZonderKids!
Find Zonderkidz on Social Media:
Instagram:
https://www.instagram.com/zondervan/
Hashtags
#HSReview,#TheBeginnersBible,#FaithBuilding,#Bible,#Zondervan, #kidzbible, #childrensbible, #nonfiction, #bookstagram, #reading, #books, #childrensliterature, #bookshelf
See what other members of the Crew thought here