Preschool Curriculum
by La La Logic
This is an online program for children ages 3-6. It includes 100 weekly schedules of activities. Each weekly schedule contains both online activities to "train the brain"as well as, printable worksheets containing coloring, cutting, and gluing, PLUS two extension activities for parents and children to do together.
This program is more than just another way to keep your "littles" occupied while you are doing "school".
Preschool Curriculum
by
La La Logic
is based on the latest "brain plasticity research" - scientific research based on IQ tests. This program is actually helping to develop the important skills that your young child is going to need as they move forward in learning.
Online Activities:
As your child works through the weekly lessons - the activities are building blocks that gradually get more difficult. The activities vary - matching, counting, patterns, puzzles, visual perception and many more. All of the them are bright and visually engaging. The program is very well produced, and works on your computer or mobile device.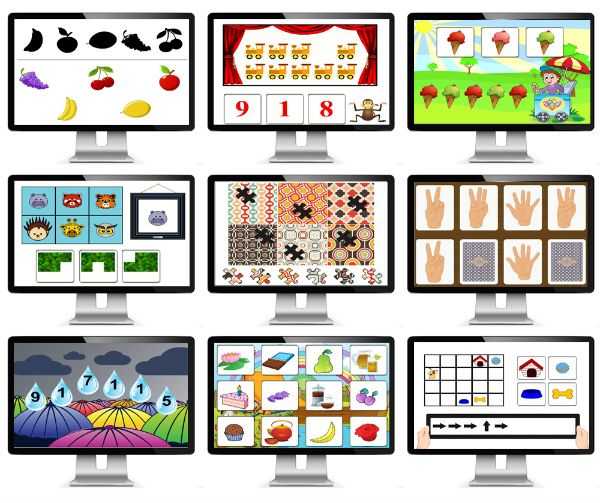 You can let your child complete one activity at a time - they are designed to take about 5-10 minutes each. One week contains 5 different activities (both on and offline). Or, you can choose "Continuous Brain Challenge Mode", which will allow them to play for as long as you let them (they have 500 challenges) This may be a great choice for taking on the go with you, and for those long summer car trips! This is what my testers spent the most time with, and what they liked most about the program. They were able to work independently through the challenges.



Printable Worksheets - not your ordinary kind either! These are designed to reinforce the online skills, and keep your little hands busy coloring, cutting & pasting.
Each of the online brain challenges and printable worksheets focus on a different area of intelligence and include three multisensory components:
The Brain Challenge - online
The Worksheet - download and complte offline
Enrichment Set - offline with parents
The Enrichment activities are fun family type activities. You can do them with things you already have around your house. They are things like scavenger hunts, dramatic play, puzzles, nature study's, word games. These activities are designed to take about 10-30 minutes. These are great suggestions to use as part of your schoolwork as well.
The testers at Bentz Academy loved this program! They are on the "older" side of the suggested age range, ages 5 & 7. However, they begged to get to do this daily. I think adding worksheets and enrichment activities expands the age range for this into the early elementary grades.
We frequently use "computer time" as a reward, and
La La Logic
was the perfect way to allow them both computer time AND learning time.
At just $29 for a Lifetime Membership (for up to 5 children) it is a bargain! You can get a free trial and they offer a 30 day money back guarantee.
Find La La Logic on Facebook
See what other members of the Crew thought here